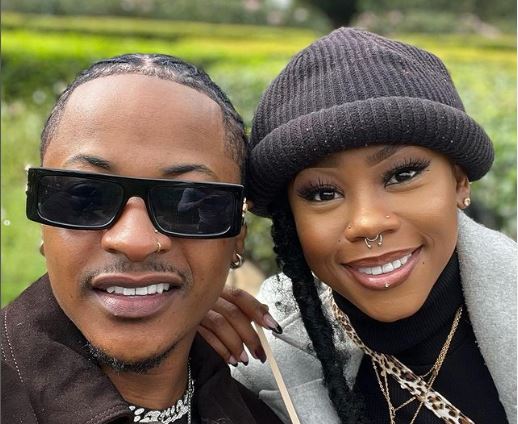 Priddy Ugly got a army of tweeps defending him against a troll who tagged him a struggling rapper.
A controversial gossiper shared a photo of Bontle Modiselle, her daughter, and LootLove Luthando; the person captioned it with, "Struggling rapper's wife Bontle Modiselle with Reason's ex-girlfriend and baby mama Lootlove photographed by Austin Malema."
Twitter users were triggered by the caption as they see it as cyber-bullying.
Priddy and Bontle's marriage is quite enviable as the couple serves goals while minding their business, hence many perceived the bullying as uncalled for.
While Priddy and his wife remain mute over the disrespect, see how Twitter users defended the rapper below:
"Priddy Ugly is that guy that always minds in his business..the only time you'll find his tweets is when he's talking about music…why disrespect him like that?? Nah that's not cool..Priddy bothers no on," a tweep wrote.
I hate it when people disrespect Priddy Ugly like this ☹️ https://t.co/PLlvCjcsIn

— Miguelita (@Michelle_SoSi) June 6, 2022
Where do people get the idea that Priddy Ugly is struggling? I mean even if he was, is it something to bully him about?

— faith 🤎 (@_renaey_xx) June 6, 2022
Priddy Ugly hated & disrespected on these streets only because he's not typical. A respectful young black man who loves his wife and is a present father. He's also not lacking in the bars department. A dope rapper. Good looking too. https://t.co/6ME7Z8HDQG

— IAm (@IamItAll5551) June 6, 2022
One thing Priddy Ugly I'll always applaud him for, is the way he treats her Queen Bontle. No one talks about that, but he were to start abusing her, y'all would be on the Twitter street tweeting, Men Are Trash. Futsek Musa, masimba akho. https://t.co/Gs2FM3uaHN

— Teddy Bear 🧸 (@TED_thee_Bear) June 6, 2022
Priddy Ugly like Uncle Waffles and Blxckie they never bother no body and but yall are out here bashing him. He takes his own life next and then we come back to say "oh, how great a father he was to his child".. ingase siyeke ubazizrhama ezi insesitive for once. pic.twitter.com/ROtvEBrDPZ

— Ma- Eh (@loveric3000) June 6, 2022