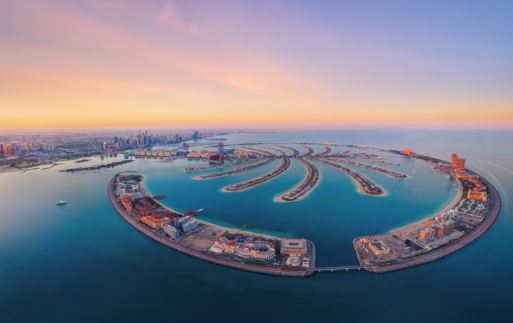 Dubai is one of the most popular tourist destinations on the planet. The place is renowned for its opulent shopping, luxury hotels and resorts, vibrant nightlife, awe-inspiring architecture and awesome beaches.
Dubai continues to expand and is always looking ahead, collaborating with high-tech firms and dreaming bigger.
Let's have a look at some of the breathtaking places to visit in Dubai:
Dubai Creek is a beautiful saltwater creek set in the heart of Dubai. Being one of the best places in Dubai, the creek attracts thousands of visitors every day. The creek runs between Deira and Bur Dubai and those who wish can enjoy themselves in dhows and traditional wooden boats here which are available for hire.
2. ​Sheikh Zayed Road
Sheikh Zayed Road, also known as E11, runs from Dubai's World Trade Centre roundabout to the city's southernmost Jebel Ali district. The road is named after the UAE's first president, Sheikh Zayed bin Sultan Al Nahyan. The road has eight lanes in each direction. However, the Trade Centre–Downtown Dubai section is the most well-known, with skyscrapers standing shoulder to shoulder.
3. Mall of the Emirates
The Mall of the Emirates, spread over 255,489 sq m, was inaugurated back in 2005 as a complete shopping resort. The mall has some 630 retail stores, including fashion and lifestyle brands, departmental stores, and everything in between. Aside from that, the Kempinski Hotel and Sheraton are two 5-star hotels inside the Mall of the Emirates.
4. Aquaventure Waterpark
You can dive right into action at Dubai's Aquaventure Waterpark. The Aquaventure, which is part of the Atlantis The Palm resort, offers thrilling water rides and other adventure activities to visitors of all ages. Enjoy the rides as you please: race down corkscrew chutes, ride through shark tunnels or just relax.
​5. Burj Khalifa
Burj Khalifa is the world's tallest building and a must-see attraction for anyone visiting Dubai. The skyscraper boasts impressive stats, such as being the world's tallest building at 2722 ft and having more than 160 storeys. If you aren't afraid of heights, you must visit the Burj Khalifa's observation deck, which offers breathtaking views of the city.