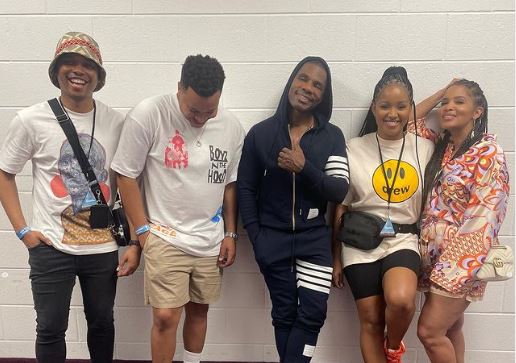 Mpoomy Ledwaba and her husband, Brenden praise got their South African lovers jealous after meeting with Kirk Franklin and his family at the Maverick City concert "Kingdom Tour" in America.
The couple shared a video of themselves at the concert and it got Mpoomy trending on Twitter as people wish they could also attend the event.
Sharing video clips from the concert on Instagram, Mpoomy wrote, " I decided to write what I'm believing God for…..amongst other things, a Mav worship experience was on the list (before a tour was even announced) and here we are! I know for sure that God is in me."
She also bonded with Kirk's wife and shared their photos too.
"Ever meet someone and it feels like you've known each other forever!!! @iamtammyfranklin I love you so much, you made last night extra extra special."
Reactions on Twitter be like:
"Mpoomy Ledwaba and her husband said if Maverick city music doesn't bring a concert to SA then we'll go to America, just for that. Money is so important ebomini guys."
"Mpoomy & Brenden are currently living my dream."
Check out the videos and photos below:
View this post on Instagram
View this post on Instagram
View this post on Instagram
View this post on Instagram