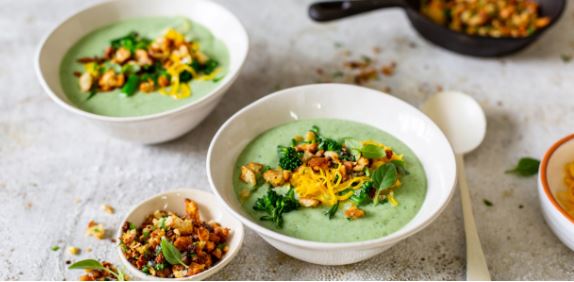 Broccoli-cheese soup is life. There's something about it that triggers a happy, peaceful memory.
This soup is very flavorful. It's great for serving at luncheons or special gatherings with a quiche.
Here's the perfect recipe to make your delicious broccoli cheese soup at home.
Ingredients
Soup
30ml butter
1 onion — medium, chopped
2 garlic — cloves, chopped
250g broccoli — chopped
15ml cake flour
500ml stock — vegetable
375ml milk
250ml cream
45ml fresh chives — chopped
Salt and freshly ground black pepper
Breadcrumbs
250ml white bread — chopped
300ml onion — chopped
1 garlic — cloves
15ml fresh chillies
15ml fresh parsley — finely chopped
250ml cheddar cheese — grated
Fresh basil
Method:
For the soup, heat the butter in a pot over medium heat. Add the onions and garlic and sauté, 1 minute.
Add the broccoli and cauliflower and sauté, 2 minutes. Remove 4 tablespoons of this mixture and set aside.
Stir in the cake flour, stock and milk and simmer, 15 minutes. Add the cream and simmer, 2 minutes.
Stir in the chives and puree the soup until smooth. Season the soup to taste.
For the breadcrumbs, place the bread, onion and garlic in a food processor and blend until fine.
Add the oil to a pan over medium heat; add the breadcrumb mixture and fry until golden and toasted, 3-4 minutes.
Season it to taste and stir in the parsley.
To serve, spoon the soup into serving bowls and top each portion with the chopped broccoli mixture that was set aside earlier.
Sprinkle some of the toasted crumbs and cheddar on top. Garnish with some basil leaves.
Tip:
For a chunkier soup, only puree half of the soup and combine it with the un-pureed half of the mixture. Delicious!