"I'm done keeping quiet" – Letoya Makhene reveals more truth about her failed marriage
by Bukola Jun 27, 2022
---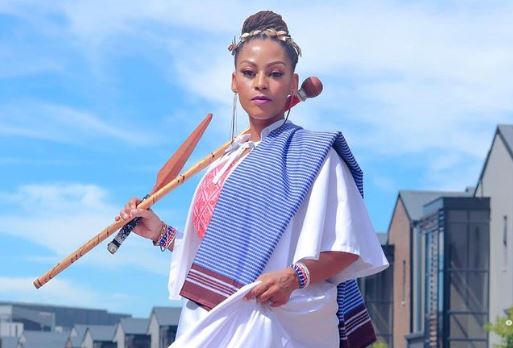 Letoya Makhene
has taken to her social media to reveal more truths about her failed marriage.
It all started when the star revealed that her wife, Lebo Keswa got attacked by her ex-lover named Tshepo Leeuw.
The actress opened an assault case against Tshepo after he went wild with her.
"My ex Tshepo Leeuw and his family assaulted me and my wife Lebo Makhene-Pulumo because she refused to take a plastic bag that he was sending my son home with consisting of; five-pack noodles, five apples, five pears, five bananas, and a box of Tinkies," Letoya wrote on social media.
The actress shared an official letter her family sent to her ex's family in 2021.
She said her ex's mother has once instructed him to go get a axe and basically to hack her wife.
Lebo said she is still struggling to deal with the trauma.
"So a woman called Nana Tshikovhi, is Tshepo Leeuw Tshikovhis Mother. The woman who instructed her son in a video and said; Tshepo hamba uyolanda imbaso; meaning go and get an axe. Basically telling her son to come and hack my wife Lebo🤯🤯🤯. My level of trauma is beyond me. Guys I'm really struggling and not dealing with this😭😭😭(The more I watch this video is the more I get FURIOUS🤮🤮🤮)"
"This is a woman who was abused by her ex husband. He beat her up so badly she doesn't have teeth she's got false teeth. She stopped her own ex from having any access to her when she got married again and the very same Tshepo and his siblings would be dropped off and fetched from a mall. But this very same woman encouraged her son to kill a woman. A woman who's raising her own grandchild. Instead of her taking care of the grandchild she's paying for a car for a junkie and lives with him in her house."
Lebo also revealed that she took care of her ex when he was unemployed and things were going very well for her.
"When things were going well in my career and I took care of her unemployed son who lied to me and told me he's an Attorney when we met, that time he didn't even finish his first year, she was accepting of me. As life happens I had my own misfortunes only for this woman to turn her back on me after taking care of her useless son for three years and say he can move back home with my son and I'm not welcome in her home because I'm a Sangoma🤦🏾‍♀️🤦🏾‍♀️🤦🏾‍♀️🙆🏾‍♀️🙆🏾‍♀️🙆🏾‍♀️."
I'm an independent woman, I work, I hustle but she's helping her son fight for my child BUT they are still not paying for MAINTENANCE. My child costs me about R8500 a month. Not one cent from these people and they badly assaulted my Wife because she refused to take a packet of 5 noodles, 5 pears, 5 apples, 5 banana and 10 slices of processed cheese… SIES🤮🤮🤮
See post below:
View this post on Instagram
Categories: Celebrities