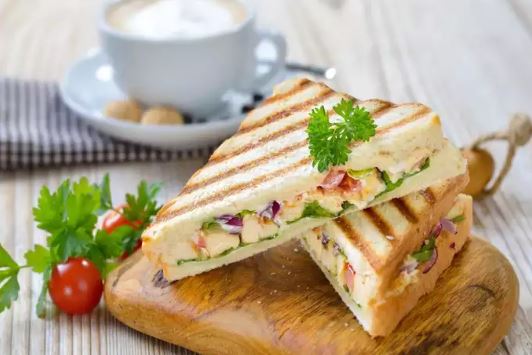 If you want to lose weight, you can still enjoy delicious sandwiches for breakfast, lunch or dinner and shed kilos.
Remember to drink plenty of water and exercise regularly to achieve best results.
While making a sandwich, whole wheat or multigrain wheat bread instead of white bread.
These are healthier and have fiber and a low glycemic index which is important to maintain glucose levels and help in weight loss.
Also ensure you do not eat more than two portions at a time. You can stuff these up with the fillings which are super healthy and low in calories.
This will shoot up the taste and keep you full for hours.
​1. Apple cinnamon sandwich
This is a super easy to make and delicious sandwich packed with the goodness and juicy flavor of apples. To prepare this, all you need to do is to chop an apple in flat, circular slices. Ensure to take out all the seeds. Now spread these on a slice of bread and sprinkle generously with cinnamon powder. You can also add some honey if you want some sweetness in your sandwich. Add another bread on top, slice it into two halves and enjoy!
2. Tomato cucumber sandwich
This is another delicious and quick sandwich recipe and is made with green chutney, tomatoes, cucumber, mint, salt and pepper. The sandwich is tangy, crunchy, bursting with flavors and super nutritious and healthy, making it an ideal recipe for weight loss. Make sure you serve the sandwich immediately after preparation otherwise it will get soggy.
To make this sandwich, take a piece of toasted bread and spread green chutney on it. Now add slices of cucumber, tomato, mint leaves and sprinkle salt and pepper evenly on top. You can serve the sandwich open or top it with another slice of bread. The calorie content will be less if you stick with a single slice of bread and plenty of toppings.
3. ​Peanut butter and banana sandwich
This sandwich contains the goodness and mouth-watering combination of peanut butter with bananas. Peanut butter is rich in protein and also helps to reduce the risk of type 2 diabetes. It is also a healthier option compared to cheese spread or chocolate spread. To make this recipe, you can either toast the bread or go without any heat if you like. Now spread peanut butter on the slice of bread and top it with slices of a banana. Eat them open-faced.
4. Grilled sandwich without mayonnaise or cheese
If you are a grilled cheese sandwich fan, it can get tricky to gorge on your favorite cheesy sandwiches without feeling guilty later if you are trying to lose weight. However, with certain alterations in the recipe, you can still enjoy their delicious flavor without using any high-calorie cheese or mayonnaise. The secret lies in using hung curd instead. Curd is super healthy as it is a probiotic which aids in digestion.
Hung curd is creamy curd without its water content. For this, take a muslin cloth and place curd in it and tie it securely. Hand this tied curd cloth for 2-3 hours till all the water leaves the cloth. Squeeze out the remaining water and your creamy curd is ready.
Now for the sandwich, finely chop carrot, capsicum and onion. Mix these veggies with hung curd and add salt, pepper and oregano to them and mix again. You can also add some red chili powder if you want to make it spicy. Now spread the mixture on a bread, top it with another bread and grill the sandwich till it becomes golden-brown from outside. Slice it into two portions and serve hot.
5. Chicken sandwich
If you are craving for a chicken sandwich but frozen chicken sandwiches add inches to your waist, you can make your own super healthy and delicious chicken sandwich which is low on calories compared to the frozen ones. To make this recipe, we will be using boiled chicken chopped into small pieces. Mix this with some chopped bell peppers, chat masala, red chili powder, pepper, salt and a little mayonnaise. Now take a slice of bread and spread lettuce on it. Add lots of the filling and cover it with another piece of bread on top. Grill it for 2-4 minutes and voila, your delicious sandwich is ready.