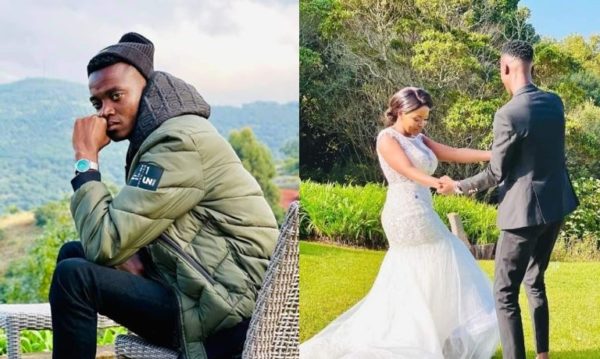 King Monada shared photos of himself dressed in a suit and gallantly standing beside a lady in a wedding gown.
The musician is known to have two lovers; he proposed to the first a few months ago.
Seeing a different face in a wedding dress got some fans thinking he's married to a third wife.
"With God everything is possible," he captioned one of the wedding photos.
Number 3 pic.twitter.com/6mWiWCHxCp

— morolong (@GersonSetati) June 24, 2022
We are curious😂 pic.twitter.com/Ae49MSgm5w

— Aunty Nelly🌸 (@mamantho13) June 25, 2022
However, it's observed that Monada is shooting a music video of his song as he shared other photos which revealed that it's a music video.
Check out other photos below:
🥺😬🎬🎞🔥🔥🔥🔥🔥🔥🔥 pic.twitter.com/W8QmQzcN2d

— KING MONADA 👑 (@KingMonada) June 24, 2022
🖤Guess The Song 💃🏽🕺🏽

You might be the lucky winner😉 pic.twitter.com/4Spcu28CPJ

— KING MONADA 👑 (@KingMonada) June 21, 2022