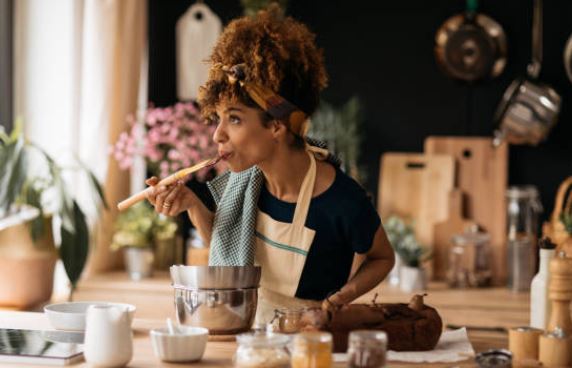 is a country, where most of the people love to eat home-cooked food, and cooking is a part of daily functioning.
The pandemic has seen many of these people whose passion for cooking has led them to cook professionally and are often called Home Chefs.
Many of these home chefs are increasingly providing home-cooked food to the users via food delivery platforms.
We spoke to a few home chefs about the kitchen equipments that have helped them create food in a jiffy.
Most of the home chefs prepare food in a large quantity and investing in these tools & accessories has made the cooking process easier, simpler and quicker.
If you are also a home chef or want to turn into one, here are the equipments you must invest in!
1. Pastadough maker
It is the first thing that home cooks swear by as most of the people want to have homemade pasta, which also includes making pasta from the scratch. It is healthier to eat homemade pasta and having a pasta dough maker can turn junk food into a healthier meal. So, it is a good investment for home chefs and also, there is a huge difference in taste when you make pasta from scratch.
2. Slow cooker
It is one of those procedures that can enhance the taste & flavour of a dish. From preparing soups to roast broths, you'll need a slow cooker for just about everything.
3. Santoku knife
It is one of the equipments that's used by professional chefs and is known to be quite costly. This knife is commonly used to slice the fillets & steaks while being used as a fine chopper. Fine chopping and slicing make the whole cooking experience exciting as well as makes it look like professionally cooked food.
4. Food processor
This is a blessing for all the home chefs as it makes the preparation of food easier. A food processor can help in easily mincing of veggies, making heavy cream into butter which can be further used for bringing out homemade ghee, making gluten-free flours at home to making an actual dough. All these tasks are quite time-taking and a good food processor can cut a lot of timing. Thus, it is the right investment for you!
5. Built-in cooking range
One of the several benefits of these built-in cooking ranges is that you can perform many tasks together at the same time. Often called stove-tops, these built-in cooking ranges are designed in such a way that grilling, roasting and cooking and even baking can be done at the same time.