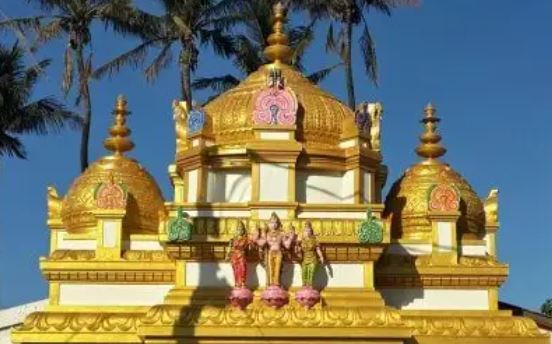 South Africa is a land of diverse and vibrant culture and deep history which is reflected by its architecture.
Apart from the abundant wildlife and incredible architectural heritage, this country also follows different religions.
One can find many temples built in different cities of South Africa.
If you're on a religious tour, then don't miss out these magnificent temples in South Africa and take a glimpse of the Indian culture at this African nation.
1. Hare Krishna Temple, Chatsworth
A part of the ISKCON group of institutions, this is one of the most well-known Hindu Temple in all of South Africa. Located in Chatsworth, the mostly Indian neighborhood inside the city of Durban, this temple is dedicated to Lord Krishna from the Hindu mythology.
Location:50 Bhaktivedanta Swami Circle, Chatsworth, 4092, South Africa
2. Madhya Kailash Temple in Midrand
Madhya Kailash temple in Midrand is a temple dedicated to Lord Shiva of the Hindu mythology, who is supposed to be the destroyer of all the evils of this world. The temple follows the Shaivism sect of Hinduism, a sect which believes that the Supreme Power Lord Shiva is faceless, timeless and spaceless.
Location:52 Stag Rd, Glen Austin AH, Midrand, 1685, South Africa
3. Durban Hindu Temple
Believed to be the oldest temple in all of South Africa, this temple was established by the first Indian immigrants to South Africa in 1875. The temple was declared a national monument in the year 1980. The complex has 3 temples one for Shiva, one for Draupadi and one for Mariamman.
Location:24 Somtseu Rd, Stamford Hill, Durban, 4000, South Africa
4. Melrose Temple
Constructed around 125 years ago in the quite bylanes of Melrose, this is one of the oldest Hindu Temples in South Africa and arguably the oldest in Johannesburg. The main deities of the temple are Lord Vinayaka and Lord Parameswara.
Location:2nd St, Abbotsford, Johannesburg, 2192, South Africa
5. Shree Ayyappa Kshetram Centurion
This temple is dedicated to Ayyappan, the Hindu god of growth who is particularly followed in Kerala and some other parts of South India. Ayyappan is a male god who is supposed to be a child of Shiva and Mohini, the female incarnation of Lord Vishnu. Majorly followed in Southern Parts of India, this god is responsible for growth and prosperity.
Location:Erasmia, Skurweplaas 353-Jr, Centurion, South Africa
6. Clairwood Shree Siva Soobramoniar Temple
Clairwood Shree Siva Soobramoniar Temple is a temple in Clairwood, Durban and is dedicated to the deity Muruga. Established in 1889, the temple is famous amongst Indians living in South Africa for its annual Thaipusam Kavadi festival.
Location:122 Sirdar Rd, Clairwood, Durban, 4052, South Africa
7. ISKCON Cultural Center Pietermaritzburg
The ISKCON culture center in Pietermaritzburg is one of the newest ISKCON society temples to be opened in South Africa. As with every other Iskcon temple, this one is also dedicated to Lord Krishna. The temple was opened for public only in September of 2017 which was followed by a grand celebration where devotees from ISKCON societies from all across the world came to participate.
Location:Olympia Way, Northdale, Pietermaritzburg, 3201, South Africa
8. Mariamman Temple Pretoria
The Mariamman Temple Pretoria is amongst the oldest Hindu temples in South Africa and the oldest temple in centurion itself. Established in 1905 by Indian Migrant workers in Centurion, the temple is dedicated to goddess Mariamman who is believed to be the goddess of smallpox and other infectious diseases. The temple is popular for its authentic traditional Indian exterior and elaborated and decorated pillared halls inside.
Location:23 6th St, Asiatic Bazaar, Pretoria, 0183, South Africa
9. Lam Rim Buddhist Center Johannesburg
This temple is a Tibetan Kadampa Buddhist Center which is equipped with all the modern facilities like Skype to teach its devotees from faraway lands and also when the chief monk is on tours. The Buddhist center also screens movies on mindfulness and peace of mind once a week. The main motto of this center is to promote talks in the subject matter of inner development and happiness with an atmosphere which facilitates spiritual well-being.
Location:1st St, Jan Hofmeyer, Johannesburg, 2141, South Africa
10. Kagyu Samye Dzong in Cape Town
The Kagyu Samye Dzong Buddhist center in Cape Town is one of the Kagyu Buddhist centers established in South Africa. This temple follows the lineage of 17th Gyalwa Karmapa Ogyen Trinley Dorje, the head of Karma Kagyu School of Tibetan Buddhism. The main focus of this center like any other center is talking about spiritual and mental well-being, development of happiness, inner peace and mindfulness.
Location:6 Morgenrood Road, Kenilworth, Cape Town, 7745, South Africa