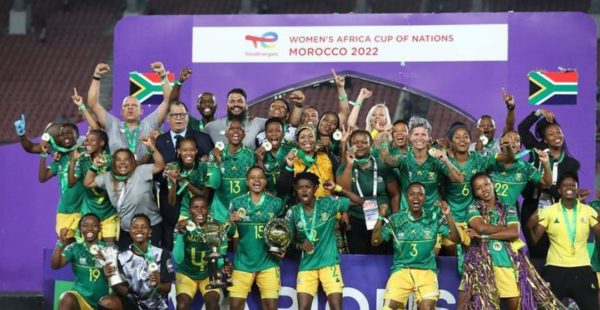 Banyana Banyana football team has been crowned champions of the Women's Africa Cup of Nations for the first time.
The South African women's national team won against the host Morocco 2-1 in the final on Saturday night at the Prince Moulay Abdellah Stadium in Rabat.
Hildah Magaia was the heroine as she scored two goals that saw Bayana Bayana taking over from Nigeria as the new champions.
Bayana Bayana returned home as the best female football team in Africa after being heartbroken at four different WAFCON finals.
South Africans took to social media to congratulate the girls for raising the flag high.
"Congratulations to @Banyana_Banyana on making history and winning their first ever title at the Women's Africa Cup of National last night. They promised me that they would bring the trophy home. We cannot wait to welcome you back and thank you for flying the flag," President Cyril Ramaphosa wrote.
Tonight we celebrate 😭🇿🇦💚💛

CHAMPIONS !!!#TotalEnergiesWAFCON2022 pic.twitter.com/7WV0i9p6gF

— Banyana_Banyana (@Banyana_Banyana) July 23, 2022
Banyana don't host tournaments……They like being hosted and then inflicting pain on the hosts!!!

CONGRATULATIONS AFRICAN CHAMPIONS!!

YOU BUNCH OF WINNERS!

🏆🏆🎖🎖🏅🏅🎖🎖🏆🏆🏅🏅🏅🏆⚽️⚽️⚽️⚽️⚽️⚽️⚽️⚽️⚽️⚽️⚽️⚽️⚽️⚽️

MOROCCO 1-2 SOUTH AFRICA FT@Banyana_Banyana #WAFCON2022 pic.twitter.com/VhguxLc4Rm

— robertmarawa (@robertmarawa) July 23, 2022