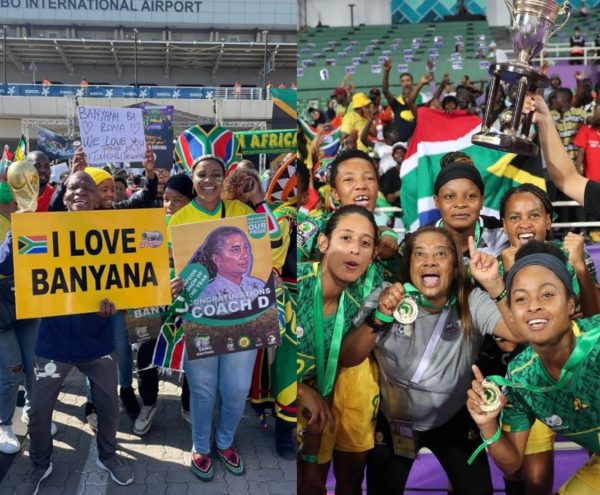 African champions Banyana Banyana have arrived (Videos)
The African champions, Banyana Banyana finally arrived at the OR Tambo international airport on Tuesday morning after emerging winner of the 2022 Women's African Cup of Nations with two goals against Morocco whose women's football team scored a goal.
The South African women's national team is being welcomed in a colourful and scintillating manner at the airport which is filled with different groups and people who are set to welcome to champions home.
Nathi Mthethwa who is the Minister of Sport, Arts & Culture is also at the airport to welcome the girls.
Various festivities and activities are ongoing in the airport which is exciting to see.
Check out videos below:
The Vibe here at OR Tambo International Airport. #TheCMShow is LIVE from here. @Radio702 pic.twitter.com/73Lei1maY0

— Clement Manyathela (@TheRealClementM) July 26, 2022
An exciting day at OR Tambo as the #BanyanaBanyana team returns home after winning the Women's Africa Cup of Nations in Morocco. #BanyanaBanyanaVictory #WAFCON2022 pic.twitter.com/mSJ0yF0CAf

— EWN Reporter (@ewnreporter) July 26, 2022
#BanyanaBanyana What a rapturous and fitting welcome for Banyana Banyana at the OR Tambo Airport💥💥💥 pic.twitter.com/QcI2BRYl3b

— Kgomotso Mokoena (@KgomotsoMokoena) July 26, 2022
Football fans arrive at OR Tambo International Airport to welcome the @Banyana_Banyana back home.

🏆🥇🇿🇦#LiveTheImpossible pic.twitter.com/Rm5N9877pI

— Gauteng Dept. of Sport, Arts, Culture & Recreation (@GautengSACR) July 26, 2022
What an incredible turnout at OR Tambo International airport. 👌

The Queens of Africa, Banyana Banyana are back on SA soil!!! 🔥🇿🇦 https://t.co/k8n9D6GdBX

— Tokelo (@TM_Teekay) July 26, 2022
Festivities taking place at the OR Tambo as fans celebrate Banyana Banyana's arrival. pic.twitter.com/U7w1eQWHO2

— Sowetan LIVE (@SowetanLIVE) July 26, 2022
Rasta at OR Tambo waiting for the African champions, Julius malema pic.twitter.com/x4dQ6F5UgI

— zozo (@HLefighter) July 26, 2022
#BanyanaBanyana arrival at OR TAMBO pic.twitter.com/YAYB5RSFZy

— Buhle Sihlali (@BuhleSihlali) July 26, 2022
#PlayOn Scenes at OR Tambo International as we wait for @Banyana_Banyana to arrive from their African triumph 🥇🏆
📸@SAFA_net pic.twitter.com/Vj5lVXHodc

— PlayOn (@PlayOnSA) July 26, 2022
The mood is festive at OR Tambo International.

The newly crowned #WAFCON champions #BanyanaBanyana touched down in the republic & were wholesomely welcomed back home by adoring fans.

Banyana Banyana claimed their 1st ever #WAFCON title in Morocco on Saturday.#TheLegalSA pic.twitter.com/jnLytQxjuR

— The Legal SA (@TheLegalSA) July 26, 2022
We have arrived at OR Tambo International Airtport to welcome the Queens of African football @Banyana_Banyana. 🇿🇦

We are delighted to see that the investments the Department of Sport, Arts & Culture & other key partners have made in women's football is yielding positive results. pic.twitter.com/VTiCZHcuKI

— Min. Nathi Mthethwa (@NathiMthethwaSA) July 26, 2022