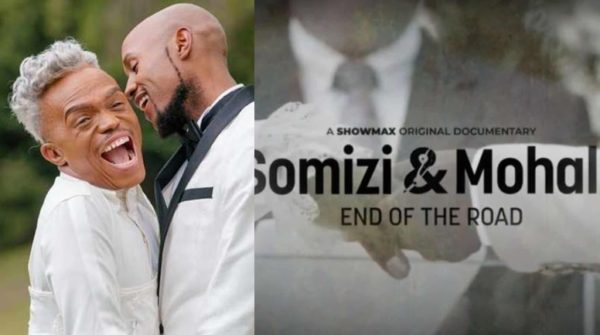 Somizi Mhlongo and Mohale Motaung have documented everything about their divorce which will air on Showmax.
The trailer of the new documentary, Somizi & Mohale: End of the Road was released on Wednesday, 10th of August.
The erstwhile lovers shared their wedding with the public via a show on Showmax; Living the Dream with Somizi (a reality show) airs on the same channel and Mohale aired his OTR (On The Record) on the same channel.
Following their divorce, they individually gave different accounts of the marriage and how it ended.
The new doccie to premiere on 25 August 2022 will disclose everything about them and their dirty divorce.
Letoya Makhene-Pulumo, Jackie Phamotse, Sol Phenduka, Langa Mavuso, Peace Maphalu, Prof Cameron Modisane, Tshiamo Modisane, MaBlerh, Lumko Johnson, Yaya Mavundla, Gabi Mbele are expected to be on the new doccie.
South Africans appear to be surprised by the new doccie as they've had enough of the different shows surrounding their love life, wedding, accusations, and divorce.
Social media users believe the two celebrities are business-minded with the saga, as it helps them secure the bag.
Check out reactions below:
This Somizi and Mohale, is it a movie or what? pic.twitter.com/fVJtywVm4r

— nkosana lekotjolo (@nkosanap) August 11, 2022
It seems like this separation of Somizi and Mohale is another privatised money making scheme.

— ツ Ø ͏ Ʀ ͏ ł ™ ͏ ͏ ❼ (@Ori_RSA) August 10, 2022
I am not going to fall for the Somizi and Mohale money making scheme, Cassper and AKA taught me better shem🤞😅

— Vince💭 (@Vince__SP) August 11, 2022
Showmax is making their R1 500 000 million they paid Somizi and Mohale for the wedding special by force by fire! 🫢 The next show will be Somizi and Mohale life after divorce 😅

— Luvo Mankayi (@MissLuvo_Lee) August 11, 2022
I'm starting to wonder if vele they broke up or just some way of making money.

— D_King (@King_Dee30th) August 11, 2022
Next… "Living without you. The Somisi and Mohale story."
Then…. "Moving on. Life after divorce"
10 years later "Somizi and Mohale.Pension alone" 🙄 pic.twitter.com/cZNL6zBFkI

— Lagether 👑 (@Gugu_Zullu) August 10, 2022
What if Somizi and Mohale were never married legally it was just content for Showmax…… pic.twitter.com/wUe7lDLxmm

— knife-edge follower (@elton_newton) August 10, 2022