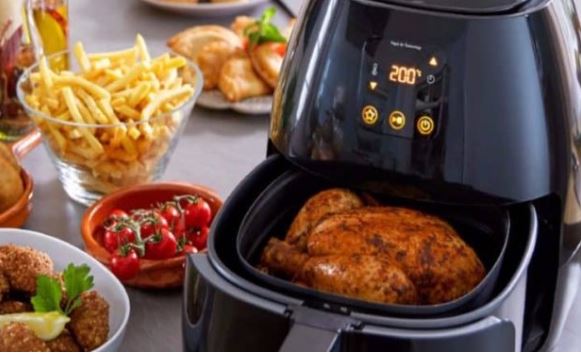 Air-fryers have become somewhat of a staple for many, with this nifty cooking gadget taking the world by storm with its ease of use and its ability to reduce cooking time.
Picture this: you just received your very first air-fryer and you haven't stopped using it because it has simplified cooking times and processes and it creates delicious meals.
But it's the end of the week and it is starting to look a bit dirty, the grill is looking a bit worse for wear, and you're wondering how to clean this gizmo without causing any damage.
While it may seem a bit complicated, we are here to provide a guide to the do's and don'ts when it comes to cleaning your new favourite cooking tool.
The do's
Cleaning an air-fryer does not have to be a huge task – here are some do's to remember.
Ensure that you use a liquid soap or detergent.
Ensure that the air-fryer has cooled down.
Ensure that it is not plugged in when cleaning.
Use gentle cleaning tools such as a microfibre cloth to clean the exterior and a non-abrasive sponge for the basket and pan.
Clean the interior of the air-fryer using a damp cloth that has been dipped in warm and soapy water to help remove all dust, dirt and grime.
Use a wooden skewer or toothpick to clean out food that may be stuck on the basket or in the crevices of the pan and base container.
Clean your air-fryer base and basket often – failing to do so will lead to food residue sticking to the base that will require more effort to remove.
Air dry or towel dry all parts cleaned.
Use a gentle cleaning brush to remove any residue to clean the heating element of the air-fryer.
Several users on TikTok have shared this quick cleaning hack that can also be an option.
Step one: Simply place a bit of dishwashing liquid and some warm water into the base of the air-fryer. Be sure not to get any of the internal mechanisms of the cooking tool wet.
Step two: Place the base and basket back into the air-fryer and set on a high temperature and timer.
Step three: Once the timer is done, carefully remove the pan and basket together from the air-fryer and throw the dirty water into the sink.
The don'ts
Here are some key things not to do when cleaning your air-fryer.
Do not clean the pan or basket with any harsh metal scourers.
Do not submerge the entire air-fryer in water as this could cause electrical damage.
Do not place the basket and pan back into the air-fryer until it is completely dry.
Do not use utensils to remove stuck food as most air-fryers are created with a non-stick coating and using utensils can damage the coating.