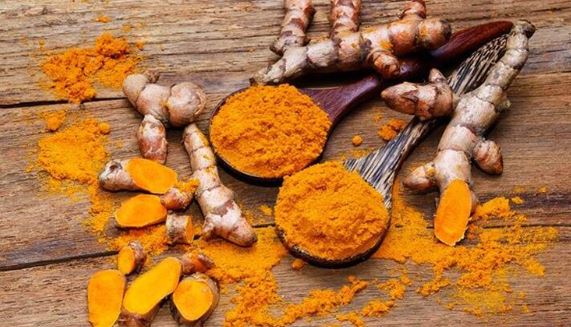 Who does not know about the golden spice? It is the king of healthy compounds, healer of pain, fighter of cancer and the protector of the heart.
But first, if you don't already know, here's a quick brush up of the benefits of turmeric!
The anti-inflammatory benefits of turmeric is a well-known thing. But what many don't know is that it can decrease the risk of cancer, support detoxification, regulate blood sugar levels.
Turmeric further aids in digestion, boosts kidney function, positively impacts cholesterol levels, helps in weight loss and combat the effects of arthritis.
Several studies have proven the anti-inflammatory effects of curcumin. But new researches keep delving deep into the different aspects of this golden spice.
Research validated the old folk practice of using turmeric to relieve gas and bloating.
1. Warm lemon water

If you've been drinking a glass of warm lemon water all along, I'll summon you to add a pinch of turmeric. It will double up the benefits filled in that glass.
2. Turmeric tonic
A superb punch of healthy nutrients comes in a glass of turmeric tonic. To prepares this, add ginger, turmeric, coconut water, orange, carrot, honey and pepper. This anti-inflammatory and anti-oxidant tonic is just a blessing for the body.
3. Golden milk
From day one, I never went to bed without my glass of golden milk. Golden milk offers oodles of benefits from soothing arthritis pain to lowering blood sugar and combating cancer.
4. The golden-hued salad

A delicious plate of salad or a luscious platter of boiled apple with a pinch of cinnamon and turmeric is our way of relishing a meal!
5. Vegetable stew
Healthy steamed cauliflower, green beans and onions with a bit of spice and a pinch of turmeric is a staple for diet for our dinner.
6. Turmeric & ginger iced tea
A refreshing drink to support your heart, boost your brain and pamper every cell in your body. This simple recipe of turmeric and ginger is an elixir the body craves for.
7. Juice with a pinch of turmeric
It's super simple to add turmeric to your juices or blended drinks. For best results, add fresh organic turmeric roots to the blender. It not only enhances the taste of the juice but offers amazing benefits to the body.
8. Black pepper and turmeric tea
This spicy tea contains cinnamon, clove, nutmeg, ginger, turmeric, raw honey and coconut milk along with black pepper. Studies have found that the piperine in black pepper increases curcumin bioavailability by 2000%.