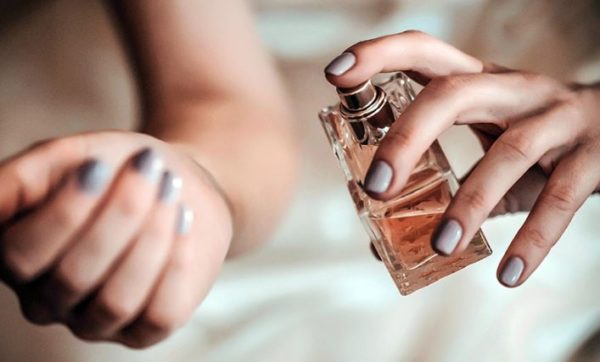 Perfumes not only help us to smell good but offer various other amazing benefits as well.
It is not really easy to choose a perfume that can suit you well as a lot of options are available in the market.
However, it will become a little easier if you know the basic types of perfumes as each type has its own characteristics.
1. Floral
Floral fragrances are unapologetically romantic and of all the different types of perfumes, they are the largest. Generally, these are prepared by combining the scents of various flowers but you can also get a single note as well.
These fragrances have a feminine appeal and represent the sweet-and-girly side. Floral fragrances are the most popular ones and some of their popular ingredients are jasmine, rose, lily of the valley, daisies, carnations, etc.

2. Fruity
Though floral fragrances are considered the largest of all the types of perfumes but the fruity fragrances are also popular on a large scale.
Made with a unique blend of refreshing, fruity and spicy notes, these fruity fragrances are evocative of hot summer days.
With the bright and familiar smells of cherry, apple, peach, mango, watermelon, strawberry and other juicy fruits, these fragrances just please your nose without being overwhelming.
3. Woody
Based on a woody and mossy accord, these fragrances are earthy, warm and dry smelling. Commonly referred to as chypre fragrances, these are mainly meant for women and sometimes unisex as well. For creating these woody perfumes, oakmoss, bergamot, patchouli, sandalwood, rosewood are used predominantly.
The strong and classy appeal of these woody perfumes translates well to the corporate world. Moreover, these are also recommended for those who are involved in outdoor activities such as camping, hiking, etc. who simply are interested in giving off the illusion that they really love these things.
4. Citrus
Next, on the list of the types of perfumes is citrus perfumes. Infused with the tangy essence of citrus fruits such as lime, lemon, mandarin, grapefruit and tangerine, these fragrances are said to be lively and energetic.
These scents give you a refreshing feel and are best enjoyed as a daytime delight.
5. Green
Fresh and lively, the green fragrances offer earthy, leafy and vegetal notes, from grass and tea leaves to juniper and vetiver. These are mild and their modern, sporty appeal makes them suitable for any outdoor or casual gathering.
Containing the essence of newly-mown grass and even some marine plants, these types of fragrances represent natural and energetic class and inclined towards unisex use. Such perfumes just take you into the world of freshness and energy.
6. Spicy
Frankly, sultry, these types of perfumes have spices in their composition that can be found in a spice rack in your kitchen.
Spices such as cloves, cinnamon, pepper, cardamom are commonly used and give character to these perfumes. With their alluring scents, these fragrances can be worn for casual occasions.
7. Oceanic
A modern invention, oceanic fragrances are formulated with a blend of synthetic compounds that make your scent clean and are worn usually during summers.
Soft, delicate and fresh, these are the types of perfumes that resemble the smell of soaps, fresh air of mountains, sea breeze, etc. oceanic perfumes are considered apt to wear during job interviews.

8. Oriental

A mix of amber, musk and earthy fragrances, these perfumes symbolize elegance, luxury and power.
Because of their unique blend of sensuality and warmth, these fragrances are known to attract attention and are even worn to seduce or attract that special person. Such strong and rich scents are never worn on a daily basis to the workplace.