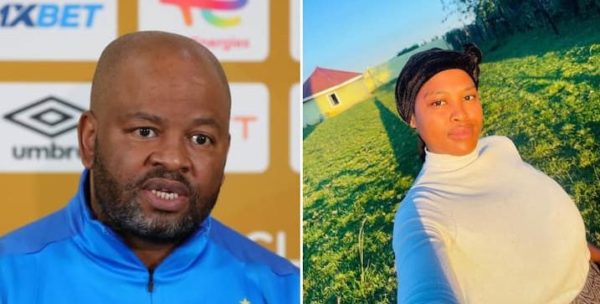 Asavela Mngqithi's father Manqoba Mngqithi has reacted to the claim her daughter stated on Twitter tagging her a deadbeat father.
Few days ago, the star revealed that her father is an absent one stating that she is just about tired of people linking all her successes to her father, Manqoba Mnqqithi.
The Mamelodi Sundowns coach has finally responded to his daughter's claims of him being a deadbeat.
He told Daily Sun that he does not wish to air his dirty laundry to the public and that he wants to protect Asavela Mngqithi.
"I don't want to air my dirty laundry in the public. I want to protect my daughter but at this point I must clear the air. I'm aware of Asavela's claims and there is no truth to them. Asavela is my first daughter but from a previous relationship. I was about to start working when her mother fell pregnant. From day one, I took care of Asavela and I paid damages to her family which is why she used my surname," he told the publication.
He said he lived with her when she was a teenager and paid for her fees.
"When she was 14 she was living with me. I paid for her school fees from Primary until tertiary," he said adding that he has proof of this. But Asavela said she could not finish her studies due to the fees owed. Ever since she started working, she started fighting with me. Because of this tension I don't even know her husband and I don't even know who took her lobola."
The coach says his daughter should be concentrating on her marriage instead.
Asavela shook the timeline and gave another bad name to absent fathers. She said her success is not owed to her father saying she struggled during her childhood.
"Whatever I have/will still achieve never credit all my hard work to manqoba mngqithi and his money. Ngihluphekile ngaphumelela engekho. If you have an opinion or inkinga Cela uyidle. Love and light I guess" wrote Asavela Mqokiyana.
"I worked from 14 years at west street supporting my late grandmother who worked as a domestic worker in Wentworth. When I went to varsity I worked at Gateway…Just don't credit him for anything when it comes to my success.
"But he keeps doing interviews as a supportive father and that's annoying. Whatever I have to will still achieve, I'll never give credit to Manqoba Mngqithi and his money," she said.