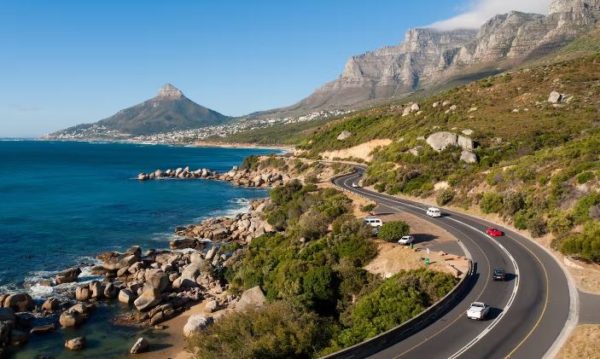 A road trip is the best way to explore a country, especially one as vast as South Africa.
So grab a map, compile a killer playlist and get ready for the ride of a lifetime.
Take a look at some of the best road trips in South Africa and pick out your favourite destination.
1. Route 62
Route 62 winds between Cape Town and Port Elizabeth, through some of the most beautiful towns in the country, including Oudtshoorn, Barrydale and Calitzdorp. It also includes a stretch through the Garden Route, one of the most scenic sections of South Africa. From visiting wineries and museums to hiking trails with breathtaking views, this 850 kilometer (528 mi) route offers a range of activities. Don't miss the immense Cango Caves, with an adventure tour option perfect for adrenaline junkies.
Distance: The full route from Cape Town to Port Elizabeth covers 850 kilometers (528 mi).
2. Baviaanskloof
The Baviaanskloof World Heritage Site's valley is approximately 200 kilometers (124 mi) long and is wedged between two mountain ranges. The drive is easily accessible by car from Willowmore to Zandvlakte, which covers 103 kilometers (64 mi), but after that (between Zandvlakte and Poortjie) it's only accessible by 4×4. There are many hiking trails along the route and, for an unforgettable experience, take a ride on the Willowmore donkey cart – affectionately called The Willow Limo.
Distance: 200 kilometers (124 mi).
3. Clarence Drive (R44) from Gordon's Bay to Hermanus
It might only be a short drive from Gordon's Bay to the whale-watching town of Hermanus, but the unspoiled views are plentiful. The scenic route guides you all along the coastline which boasts indigenous fynbos, towering cliffs and as such plenty of photo ops. If you're lucky you'll spot whales from high up and keep your eyes open for the baboons, often sitting next to the road watching the passing cars. There are many look-out points along the road and the Stony Point Penguin Colony is a must-see, as it's one of only three breeding colonies of jackass penguins in mainland South Africa. If you're after some souvenirs, stop in Kleinmond. The small seaside town has many quaint stores including The Potter's Gallery which specialises in one-of-a-kind ceramics.
Distance: Approximately 84 kilometers (52 mi).
4. Mossel Bay to Tsitsikamma National Park
Driving from the popular holiday town of Mosselbay to Tsitsikamma National Park takes approximately 2.5 hours. It is however recommended to slow it down, make a few stops and take in all that the area has to offer. You'll drive through George, Wilderness, Sedgefield, Knysna, Plettenberg Bay, past the Bloukrans Bridge, until eventually reaching the breathtaking Tsitsikamma National Park. Make sure to visit the Knysna Heads and take a walk on Wilderness beach and then, if you're up for it, bungee jump from the highest commercial bridge in the world, Bloukrans.
Distance: Approximately 202 kilometers (125 mi).
5. Sani Pass
Sani Pass, a gravel mountain route situated between KwaZulu-Natal and Lesotho, is the ultimate 4×4 adventure route. The pass starts at 1,544 meters (5,065 feet) and summits at 2,876 meters (9,435 feet), and is known for its unpredictable weather and often snow. Tour operators can be booked to help you trek the route, they'll ensure that your vehicle is in the correct condition so that you can focus on the fun part, manoeuvring the terrain and soaking up the scenery. Have your passport ready if you'd like to venture into the landlocked kingdom of Lesotho or, if you're after even more adventure, head to Afriski – South Africa's only ski resort. The artistic town of Clarens is also a popular stop for those visiting the area. The quaint town is host to many festivals, restaurants, unique stores and offers many accommodation options if you'd like to stay a few days.
Distance: 45 kilometers (28 mi).
6. KwaZulu-Natal Midlands Meander
The Midlands Meander in KwaZulu-Natal is a picturesque stretch of forests and farmland with craft villages, historic landmarks and amazing restaurants scattered all over. The Nelson Mandela Capture Site is found on the route, and so is the 95-meter Howick Falls – both major attractions to the area. There are also many activities for those who want to get as close to nature as possible, including the Treetop Canopy Tours. Nottingham Road, situated just south of Mooi River, is a town with a rich history and the ideal spot to spend a night or two. The town's legendary and notoriously haunted hotel, built in the 1890s, is set in lush, English-style gardens and offers guests a charming accommodation option.
Distance: Approximately 80 kilometers (50 mi).
7. The Panorama Route from Johannesburg to the Kruger National Park
When driving from Johannesburg to the Kruger National Park, as so many often do, the itinerary almost always includes breakfast at Milly's in preparation for the awe-inspiring drive through the Blyde River Canyon. Just as you drive through Hazyview the landscape transforms into a display of greenery and high-rising rocks towering over the Blyde River. Some of the must-visit attractions in the area include Bourke's Luck Potholes, the Lisbon Falls and God's Window, a view point which offers panoramic views across the Limpopo province's lush landscape.
Distance: From Johannesburg to the Kruger National Park is approximately 400 kilometers (249 mi).