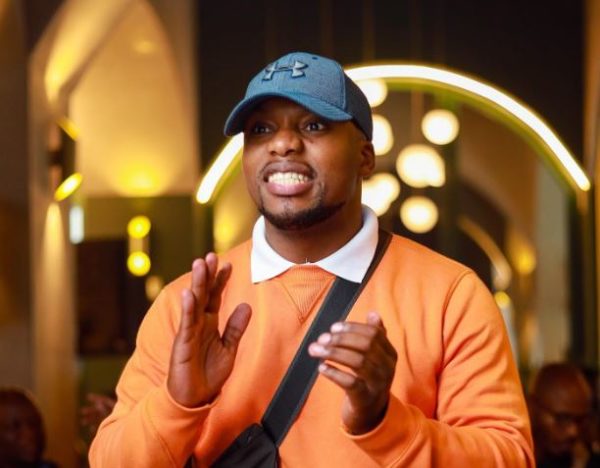 Award-winning musician, Chymamusique gets threatened for winning big at the South African Music Awards 2022 (SAMA 28).
The music producer won Male Artist of the Year, Album of the Year, and Dance Album of the Year.
Since he won the awards, there's been different complaints from people, including musicians like Zakes Bantwini, Lady Du, and Makhadzi, who believe that the organisers of the Awards are corrupt, hence manipulating the wins.
While Chyma has been busy honouring invitations from media houses due to his big wins, some critics and trolls have consistently dragged him, saying he doesn't deserve the win.
However, things took another turn after a DJ known as Mzimasi Nuse dragged and threatened to beat up Chyma.
The South African star shares screenshots of the chats and posts but deleted them hours later.
However, Chymamusique dared that he gets into the boxing match with him.
"I'm being tested … I want a boxing match with the guy on the last frame (he is a producer/fashion designer from Vosloorus), I don't take threats too well," Chyma said.
Check out the deleted post below: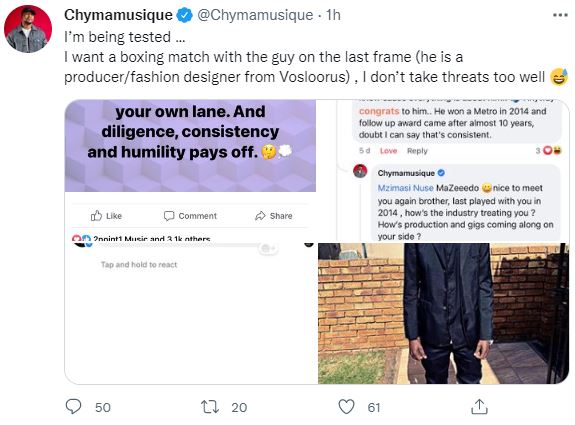 I'm being tested …
I want a boxing match with the guy on the last frame (he is a producer/fashion designer from Vosloorus) , I don't take threats too well 😅 pic.twitter.com/Yew96GOIBC