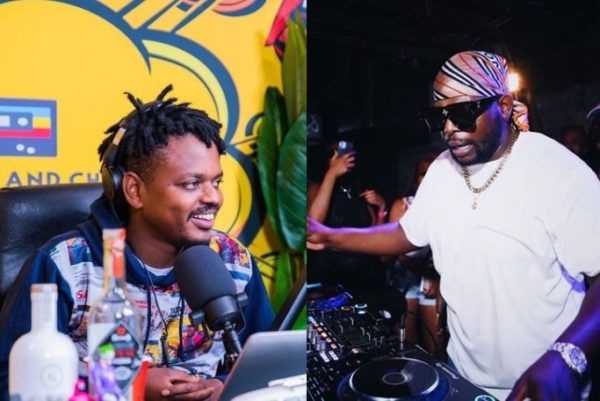 Mac G calls out DJ Maphorisa on Podcast and Chill over being an alleged Amapiano gatekeeper.
The Podcast presenter says he will be dropping an EP soon and he cares less about the producer being the gatekeeper.
"Someone told me, Maphorisa will be mad I'm dropping an EP and didn't ask for his approval," G revealed on his show.
Mac didn't reveal the identity of the deepthroat, despite being asked by his co-host and guest.
"Cause he is the gatekeeper… Fvck Maphorisa, he is not my father. Fvck him; he can eat a d!ck … If he fvcks around, I won't drop an EP, I will drop an album," Mac added.
The snippet from the show has garnered lots of reaction and many were not pleased at how Mac G dragged the DJ.
"Mac G enjoy's bad mouthing other people but hates it when he gets the same treatment from the same people he bad mouths. He claims Maphorisa is gate keeping amapiano but he can't even explain how. Podcast and chill is starting 2 b a show about rubbing macg's ego," a Twitter user wrote.
Mac G is a bitter and angry person..He says "Someone" told him??then goes to insult Maphorisa ??For something he was told by someone??….i wonder le moratelang yhoo so toxic.

— Reneilwe (@Iam_Reneilwe) September 15, 2022
Meanwhile, DJ Maphorisa had cleared the air on Wednesday over gatekeeping rumors; the music producer said Amapiano genre has no gatekeeper.
"I see u don't get it, no one owns amapiano, anyone can do it and win. Good example, look at Uncle Waffles, one trending Adiwele video, the rest was history. She did it alone; Ohh look at Costa Titch, he is doing alone and winning, stop saying I'm gatekeeper," Phori wrote.
i see u dnt get it

no one owns amapiano anyone can do it n win

Good example look at Uncel Waffles one trending Adiwele video the rest was history

She did it alone

ohh look at Costa titch his doing alone n winning

stop saying im gatekeeper 🤓 https://t.co/xPAtmKIjvA

— Madumane (@DjMaphorisa) September 14, 2022