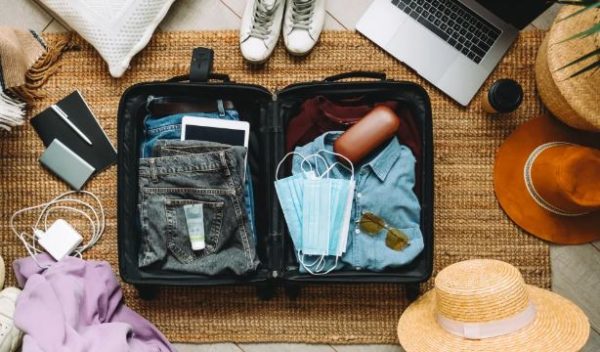 No trip is complete without your travel essentials or gadgets. When you travel, you want to make sure that you stay connected and all your items are safe.
Nothing is more frustrating than losing luggage or not being able to communicate when travelling.
To minimise the occurrence of stressful situations, here are five essential items you need to pack to make sure that you don't compromise your comfort and peace of mind.
1. Powerbank
Powerbanks come in all shapes and sizes but try to get a compact one that fits into your bag or hand luggage. Always make sure that you choose a powerbank that is allowed on flights.
Powerbanks allow you to make sure that your phone is always charged and always connected whether at the airport, on a flight, at the beach, hiking or load shedding. It's a convenient gadget that makes sure your phone's battery doesn't drain out while you're in transit.
2. Universal Travel Adaptor
When you want to plug in one of your devices during a trip abroad, you'll need an adapter.
Universal travel adapters enable a dual-voltage appliance – a transformer or a converter from one country to be plugged into the wall outlet of another country.
The purpose of the travel adapter is to help the plugs on your electronic devices fit into other countries' outlets so they can charge and work as they do in your own home country which comes in handy when you're at the airport or even your hotel.
3. Luggage locks
There are plenty of reasons why people choose to put locks on their luggage. Some use a lock to prevent their luggage from opening at an embarrassing moment, while others use a lock to prevent theft.
The biggest reason for choosing a lock it to protect your valuables in your luggage.
4. Headphones
Headphones offer the privacy of listening to music or watching shows on a device such as a laptop or phone without disturbing other passengers. Noise cancelling headphones take it a step further and allow you to block out noise on the bus, train or flight. They are good for entertainment purposes or just signalling to people that you don't want to talk.
5. AirTag/ Smart Tag
AirTags and SmartTags are the latest gadget or travel accessory to provide a solution to traveller's dilemmas aka missing luggage. These smart accessories help you track your luggage when you travel. Both devices are similar in that they rely on Bluetooth to help you keep tabs on your keys, a backpack, luggage or even a pet.