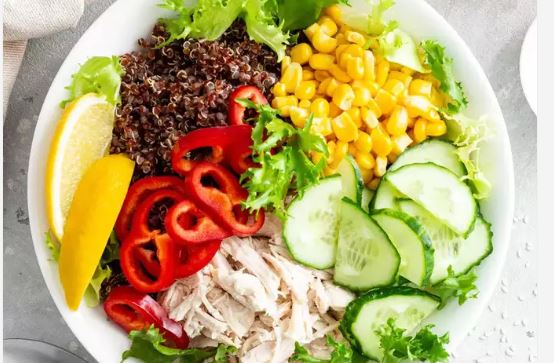 Bored of eating the usual food for lunch and dinner? Here is a colourful and healthy plate that you can put together with just a handful of ingredients.
This vibrant food plate is not only beautiful to gaze at but also is an all-inclusive plate when it comes to nutrients.
It has a perfect balance of protein, carbs, minerals, vitamins and fiber.
1. Quinoa
Quinoa is a good source of protein, carbs and is gluten-free at the same time. You can boil quinoa separately or cook it along with veggies. It takes anywhere between 10-12 minutes to cook it. Seasoning of salt and pepper goes well with quinoa.
2. Bell Pepper
Bell Pepper is a must-have, especially during winters. It is one of the richest sources of vitamins like vitamin C, vitamin A and vitamin B6. It is packed with antioxidants and is low in calories as well. Bell pepper goes really well with protein sources like quinoa and chicken.
3. Corn
Corn is not only a delicious vegetable but is also packed with fiber, magnesium, phosphorus and potassium. You can opt for packaged sweet corn, as it not only gets cooked easily but is also easy to use. All you need to do is boil frozen sweet corn for 2 minutes and they can be used in any dish of your choice.
4. Chicken
To make the plate balanced, chicken is used as a source of protein. The presence of B vitamins, like niacin, vitamin B6, and vitamin B12 in the chicken keeps your body active for longer. Opt for lean meat to cut on the excess fat content.
5. Cucumber
To suffice for the requirement of salad, cucumber is an amazing option. Cucumber is 96% water. It not only hydrates the body but also gives a feeling of satiety. Cucumber also contains fiber and minerals required on a daily basis by the body. You can season the cucumber with black salt and lemon juice to make them flavourful.