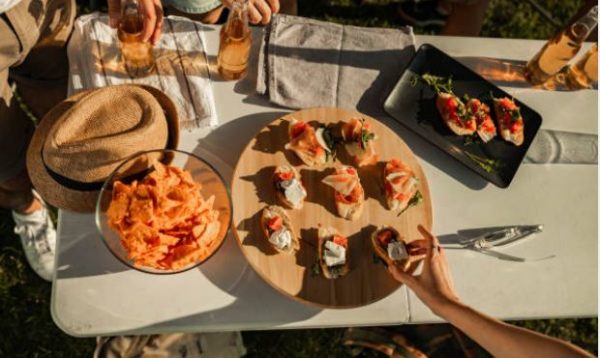 Food is often the biggest challenge when it comes to camping.
What to bring, how or where and when to cook, what to prepare beforehand and how to pack it.
But don't stress, we are sharing some simple tips to make your next camping trip easier than ever.
1. Make a meal plan and shopping list a few days before your trip
It's really important to plan ahead because if you wait and go to the store on the way to your destination you will be completely overwhelmed and end up buying bread and a block of cheese.
That may not sound half bad, but it won't get you through more than one night. Try making a simple list beforehand for each meal. If you have a plan, it will help stop you overbuying.
2. Cook in the daylight
Try and avoid waiting until it's dark before making dinner. It can be tricky trying to cook in the dark, especially if there are small children with you and only a limited number of light sources.
To help dodge potential mishaps, make the most of the ample daylight, check sunset times at your campsite ahead of dinner time, and do your preparation earlier in the day so you can quickly whip up a meal just before the darkness sets in.
If that's not a possibility, a head torch won't hinder your cooking skill but will allow you to see what you're working with. Also, think about getting a bright solar-powered camping lamp to stand or hang up in your temporary kitchenette.
3. Cook simple meals
Try to keep it simple by making one-pan meals that only use a few ingredients. You can also cook a lot of great camp food in foil pouches, which minimises the cleaning up afterwards.
4. Plan for in-between-meal snacks
Something about being in the great outdoors makes you hungry, especially if it's a chilly weekend. Make sure to bring along easy snacks for when the munchies strike.