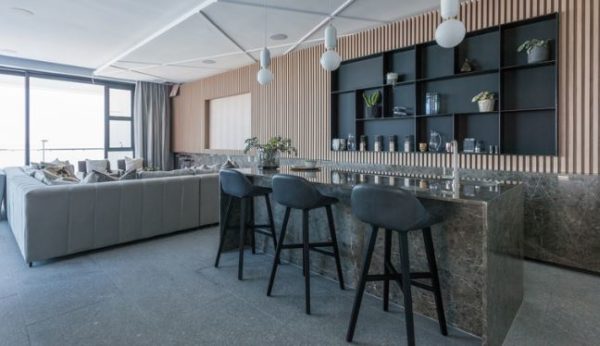 Just like fashion, interior design is forever evolving with new trends. This is because creatives always want to create, and when they do, something unique arises.
Aidan Hart, creative director at interior architecture firm Inhouse, shares his insight into trends – those they're leaning into right now and how they choose to work within the trendscape without compromising their integrity.
"The concept of cocooning was coined in the '90s, and in 2020-2021, we saw it rise to heights we'd never seen before. Now that we are emerging into a new reality, it's clear that clients want to invest more in their spaces than ever before – a focus on quality is paramount and carefully curated homes are increasingly relevant to people who view the world through more of an art-directed lens," says Hart.
With that said, these are the top-four design trends that are making waves right now.
1. Biophilic design
More people are interested in natural tones, textures and nature-inspired elements. The visual connection to nature is easy on the eye and promotes a sense of ease and wellness.
"We are increasingly using plants as elements in spaces, designing custom planters and using plant installations as screens in between different living spaces; we even have a living ficus screen in our studio space," says Hart. Timber coffee tables also add more ambience to the room.
2. Luxury finishes and fittings
Everyone loves a taste of luxury. And nowadays, you can experience it at home without going to a hotel. Sourcing exclusive materials, exotic hardwoods, luxury fabrics and one-of-a-kind stone elements is the trick designers use to make homes more inviting.
3. Made to order
A customised furnisher is better than ready-to-buy because it has your personal touch. Homeowners are able to tell designers what they want in terms of lighting, colours and so forth, and it is the designer's responsibility to get their supplier to bring that request to life.
4. Sustainable and efficient
"We are mindful of creating spaces that work for the people who operate within them and are mindful of conscious design principles. This means sourcing recycled and sustainable materials where we can, incorporating energy-efficient elements like lighting and appropriate insulation into spaces, sourcing from local suppliers and first rethinking existing structures or features rather than going straight to 'new first'," explains Hart.
So, before you throw that old cupboard away, think about refurbishing it – it can transform your space into something this is uniquely yours.