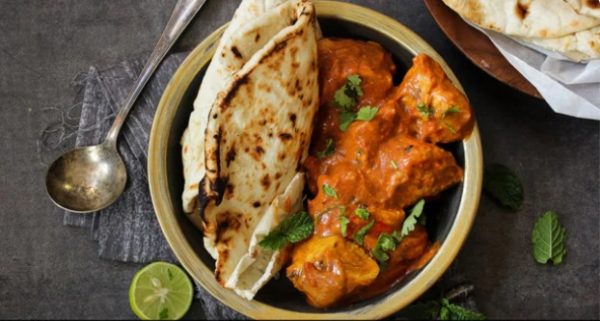 Are you someone who absolutely loves the creamy and luscious butter chicken gravy?
Then we have got some unique ways to reuse the classic Butter Chicken gravy in some delicious and innovative ways.
So, rather than eating your favourite Butter Chicken in the same old way, try these unique fusion recipes prepared with leftover Butter Chicken and we bet your kids will love these delightful treats.
1. Butter Chicken Wraps
To make these delicious Butter Chicken filled wraps, just heat tortillas or rotis, spread a layer of lettuce leaves followed by Butter Chicken pieces and use the curry as condiment. Then add in some cheese, assorted veggies, chili flakes, salt and pepper. Wrap it up and grill. Bon appetit!
2. Butter Chicken Pizza
Give your love for Butter Chicken a yummy and unique twist by adding leftover Butter Chicken as a delicious pizza topping. Spread a thin layer of tomato sauce on a pizza crust, then top it with the butter chicken pieces along with some shredded cheese, veggies, spices and herbs. Bake until the cheese is melted and dig in.
3. Butter Chicken Pasta
Craving for a tasty Pasta, then try this amazing fusion made with leftover Butter Chicken gravy. To make this delish treat, boil pasta with salt, drain the water. Next, take another pan, add butter followed by veggies of choice, then add in the butter chicken pieces and curry. Lastly, add in the boiled pasta season with salt, pepper and spices as per taste and enjoy!
4. Butter Chicken Quesadillas
To make this delicious delight, take tortillas and spread some cheese spread or butter followed by chopped veggies of choice followed by minced Butter Chicken pieces and grated mozzarella cheese. Lastly, top it with another tortilla, grill or bake and enjoy with a salsa or dip.
5. Butter Chicken Fried Rice
Another unique recipe which can be made in minutes using leftover Butter Chicken is Fried Rice. Just take a pan and add in butter cubes, toss veggies of choice and cook them for 3-4 minutes, add in the butter chicken gravy. Stir fry and add in boiled rice. Serve hot and enjoy!