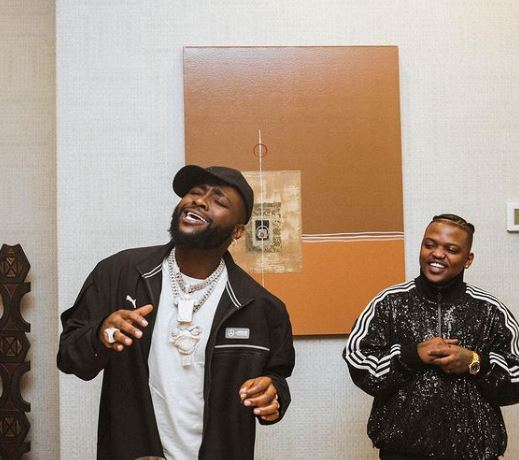 Focalisitc gets dragged by a majority of social media users after Nigerians credit Davido for making Amapiano genre global.
The genre is undoubtedly a South African genre and musicians like DJ Maphorisa, Uncle Waffles, Kabza De Small, Foca have been doing everything in their power to export the sound to the global scene.
However, Twitter quaked after it was stated that the Ke Star remix featuring the Nigerian singer catalysed the genre globally.
"Davido is the one who made amapiano go worldwide after the Remix with Focalistic ke star South Africa need to be grateful to him because he made amapiano go international," a Nigerian tweep wrote.
Nna I blame Focalistic. If he didn't add Davido on that track we wouldn't be here.

— Paballo❄️ (@paballo_maseko) July 11, 2023
I blame Focalistic 😭😭 because now Nigerians think they made Amapiano popular

— Sim.🦸 (@Sim_Saliwa) July 11, 2023
Let me set the facts straight. Davido heard Ke Star from Alicia Keys… I asked @TebogoMalope to send it to Swizz Beats & he did. Swizz Beats then asked his wife to use it as the background music in her instagram video, David then heard the song & begged Focalistic for a remix!✊🏿

— MORAL Authority (@lavidaNOTA) July 12, 2023
Davido made Amapiano global with Ke star remix by Focalistic featuring him. pic.twitter.com/rIU9KEc0Pw https://t.co/NiNp1IdDrO

— OTUNBA (@ManLikeIcey) July 11, 2023
Yoh I've never hated Focalistic so much like today.

I don't just wanna drag him, I wanna find him and beat him😭

— Paballo❄️ (@paballo_maseko) July 11, 2023
I still can't believe Focalistic removed Vigro deep from "Ke Star remix" and featured Davido, look at how that country is obsessed with our genre now 💔

— $ ͪ ⷶ ͧ ᷠ_ ᷜ ͤ ꙷ ᷦ🕊️ (@_ShaunKeyz) July 11, 2023
I told y'all Focalistic steals from Underground Bacardi artists and gave y'all proof a few months ago.

And what annoys me is how he says he supports "Kasi excellence" but he steals from it. He's got a lot of mean energy for someone that tiny https://t.co/XcgUVDaC7i

— Paballo❄️ (@paballo_maseko) July 11, 2023
You see, I told you it was that asake wack ass nigga who put log drum in his crap shit songs and ran wit it… But we all know who to blame for all this…. FOCALISTIC https://t.co/8MtOHBH7Qy

— Don Crowder in 98 (@katleho_villain) July 11, 2023
This is the man that made amapiano go worldwide after he remix Focalistic k star
South Africa need to be grateful to him because he made amapiano go international🔥❤️ https://t.co/0ZhdDdCESE pic.twitter.com/fy0N3hnkrW

— 🧨BiG SMART🔰👨‍🍳 (@Smart22O) July 11, 2023
Lona le focalistic…mxm https://t.co/lD0SzprwHj

— bruh…. (@Tumiekomane) July 11, 2023