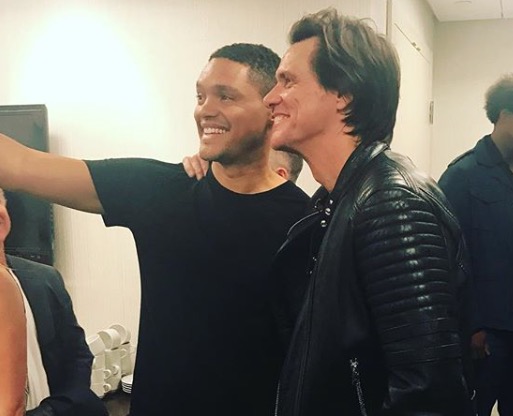 Trevor Noah has admitted that he didn't know he was battling depression until Jim Carrey spoke out about his own battles with the mental illness.
Trevor paid tribute to Jim during his acceptance speech after winning the Comedy Person of the Year award at the Just for Laughs Awards on Friday night.
"You can't win at comedy. Every comedian knows: You're going to have your good days, you're going to have your bad days, but you don't win. Winning is getting to the end without committing suicide. And Jim Carrey was one of the first comedians that described the beast that many of us face in this room and that's depression," said Trevor.
"I didn't know what that thing was. I just thought I liked sleeping for weeks on end sometimes, and then I read your (Jim's) story and I was like, 'Oh sh*t, that's what's going on,' and I thank you because, you know, I found a way to fight it. I found a way to build a community and that's what this place is –  it's a community of people trying to do something."
Afterwards Trevor took a selfie with Jim and said he is living his dream.
"I never dreamed I would ever meet some of the people who shaped how I saw funny in the world. I also never dreamed I would be on the same stage as them receiving an award! Thank you Jim Carrey for being as amazing in person as you've always been on screen."