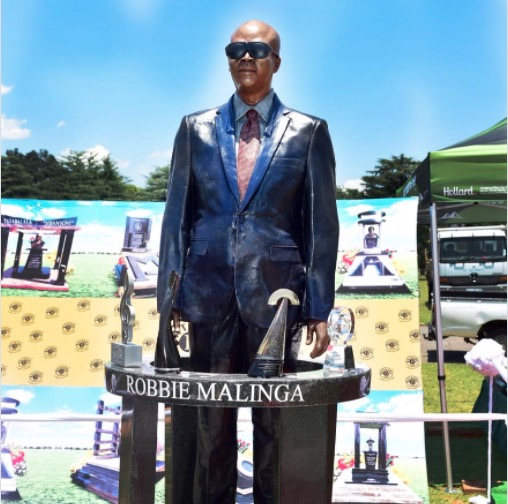 Robbie Malinga's 7-ton 'statue tombstone' is set to be removed and redesigned, after social media was inundated with comments about the lack of resemblance it had to the music icon.
The life-sized statue tombstone, along with replica awards that Malinga scooped over his 20-year music career was unveiled at the Westpark Cemetery on Tuesday afternoon, where he was laid to rest.
Lebohang Khitsane, CEO of Bataung Memorials told TshisaLIVE on Wednesday morning that they decided to go back to the drawing board, after the negative feedback on social media.
"We have seen the feedback on social media and have decided to remove the tombstone and redesign it based on that. People have pointed out that the features on the statue do not resemble Robbie 100%," said Khitsane.
Khitsane said he made the decision because as a company they pride themselves on "shocking" the industry with unique tombstones.
"I always say, we never fail, we learn. Whether the feedback is good or bad, you have to take it and learn from it. So we will go back to the drawing board and take it to the next level."
Khitsane said the design of the tombstone was inspired by the "award-winning"  life Malinga lived and the impact he made on the music industry. He added that his team would be working closely with the Malinga family on the redesign, which will be unveiled on January 23.
Khitsane revealed that it took a team of 15 people to make the tombstone, which cost an estimated R500K.
Malinga's business partner and family spokesperson, TK Nciza told TshisaLIVE  they were not stressed about peoples' opinions of the tombstone.
"People will have different opinions about different things. For us the most important thing is that our brother is resting in peace and that the family is able to go on. If he (Khitsane) wants to fix it and thinks he can do a better job, then great but we are not stressed about it."
Malinga died on Christmas day after being diagnosed with pancreatic cancer in June.