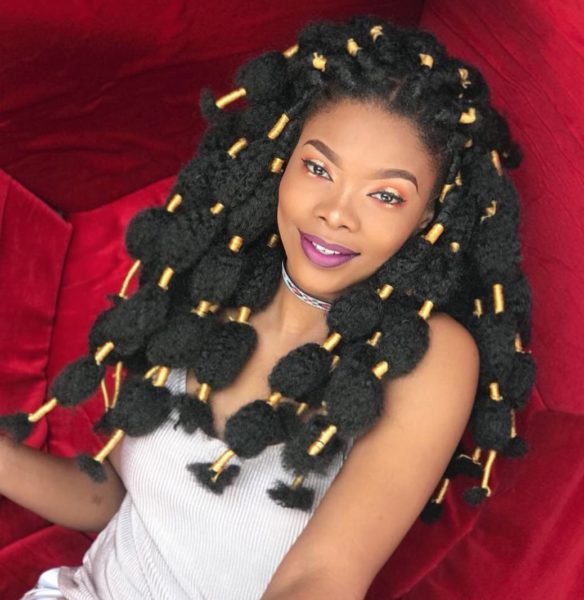 Ambitiouz Entertainment's La Sauce has made her acting debut in the micro-film titled Ncese which also happens to be directed by Nomzamo Mbatha and has a stellar cast that includes Zola Nombona and Sdumo Mtshali.
In an interview with TshisaLIVE the I do hitmaker shared her excitement over being able to explore her acting in Ncese.
"The experience for me was very inspiring and to be able to allow growth through my music is mind blowing. I have learnt a lot from the three as they are some of South Africa's renowned actors and I'm blessed to be surrounded by such greatness."
After the havoc that La Sauce's storytelling caused in Mzansi after her I do music video dropped, the singer had no choice but to up the stakes for her music video, hence it was developed into a short film that is set to be made available in local cinemas.
The short film tells the story of a parent's worst fear when their children leave home for the big city, La Sauce played the role of a Godmother.
"All my music videos have been a story so it was imperative that I make my next video a project and tell a story. Ncese is an amazing song and to have a strong team and talented cast to bring my words to life so extraordinarily is perfect!"
Speaking to TshisaLIVE previously, the then 19-year-old singer said she planned to continue to push boundaries through her music and the visuals that accompany them.
This was after it was revealed that Priddy Ugly and Bontle's (who are a real life couple) wedding in her music video was make believe, which left social media in a tizz.
"Every music video will have its own unique vibe. I don't feel any pressure. I know I bring all the sauce to the screens. I'm not really clear on which "stunt" you are referring to but will I keep thinking outside the box? Yes. Will I keep pushing the envelope? Absolutely. Will I set trends and not follow the norm? Always."