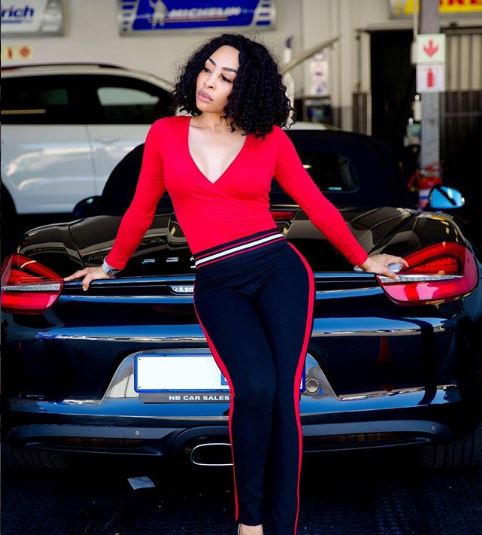 Khanyi Mbau is yet to have a break on social media as trolls are always awaiting every of her post. She recently shared a photo of herself next to an animated version of herself captioned 'reloaded' but rather than getting positive reactions from fans she found herself in hot water through fans comments.
Reloaded! pic.twitter.com/iXoiH1Vfhl

— KHANYI MBAU (@MbauReloaded) September 19, 2018

The artiste has been popularly known for her skin tone transformation and this was not left out in fans comment as they bashed on her skin colour and her caption 'reloaded'. These are some of the comments;
This is dope, but it failed. She bleached on a deeper level.

— N K O S I ⚫️ (@wintergod_za) September 19, 2018
I like "Disreloaded" pic.twitter.com/V76piL5ZMQ

— Mans Not Yours🇿🇦 (@BonganiQindi) September 19, 2018
When you are lighter than your own emoji pic.twitter.com/1eDjkOzxD2

— Sandile Wanda (@Sandzeewanda) September 19, 2018
The colonialist taught us to hate the way we were created, that white skin is superior. Today this is what people are prepared to do…no judgement bt we hope that our children do not see this on tv as we working decolonising Africa..we need role model for the coming generation

— 👑landexpropriation👑 (@ntshaangase) September 19, 2018
Now you are becoming scary pic.twitter.com/VzawtwousM

— Joyce Marokane (@joycepouassom) September 19, 2018

Tweeps believes she's struggling with low self esteem, she is fake and she is not a good role model to this generation and the next to come.
Khanyi didn't take a chill pill as she gave tweeps a fitting response. The artiste said that she does what her money permits her to do and one of them is creativity with her body.
1stly we didn't apply for role model positions.. secondly the future will have you as an example of what a basic black person used to look like!! We all do what our bank balances allow us to do and mine allows a but more creativity.. #fallback https://t.co/AvZVIc8Vdv

— KHANYI MBAU (@MbauReloaded) September 19, 2018