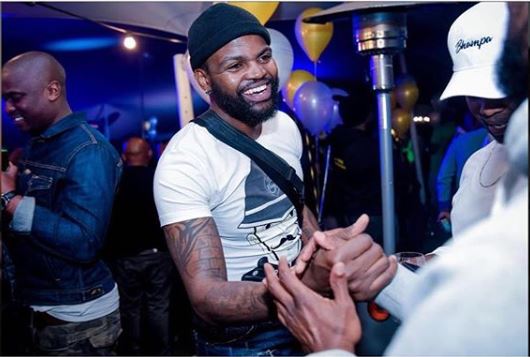 DJ Cleo took to social media to alert the public on been sensitive before helping the helpless as he points designer wears on one of  a homeless family member picture shared by a twitter user named Dr Mpumzi Mdledle.
Dr Mpumzi shared on Tuesday how a woman and her four children had been locked out of their home by their landlord for apparently not paying rent for three months. His followers were full of pity towards the family and willing to help but DJ Cleo urged fans not to be insensitive yet, appreciated Mpumzi's effort on helping.
I have a situation here , there is this woman with her 4 children , I find them crying next to the Groote Schuur Hospital, then I tried to find out as to what is happening and then I found out that the Landlord locked them out this morning as they are owing 3 months rent . Cont . pic.twitter.com/MUjoyW4J2w

— Dr Mpumzi Mdledle (@mpumzi_mdledle) October 3, 2018
Not to be insensitive: but her #Priorities seem skewed. Judging how they're all wearing #Nike which comes at a heftier price than a lot of other products that serve the same purpose. (Moipolai ha a llelwe)

However I do commend you for exemplary efforts, and trying to help https://t.co/zsCJAFRTzS

— www.djcleo.co.za (@djcleo1) October 3, 2018

However, despite the DJ's warning, the homeless family got help from people and the Social Development. They are safe and sound said the Mpumzi.
Social Development has assisted me and the family is safe at home

— Dr Mpumzi Mdledle (@mpumzi_mdledle) October 3, 2018
A Better World is indeed possible if in this this life we do the best we can to help others.Thanks to Mr Tumi Sole @tumisole,Ricardo Mackenzie @ricardomackenzi ,Chumakwande @ChuKwande and Social Development.The family of 5 is now safe and sound at home.
" Let's embrace Humanity pic.twitter.com/wJw9OdXKcY

— Dr Mpumzi Mdledle (@mpumzi_mdledle) October 3, 2018