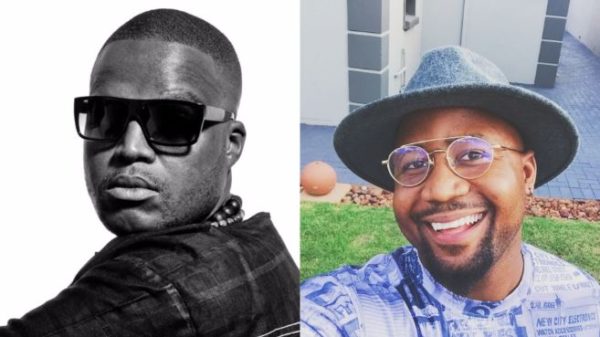 Cassper Nyovest is heart broken and needs a stitch. Since the news of HHP's death the rapper as seized not to share moments and experience he had with the late icon.
The rapper revealed he was glad to tell Jabba that he loved him after he(HHP)told him(Cassper) that he loved him. "You told me you loved me after a long time and I'm so glad I told you I loved you too. I'm so glad my emotions never got the best of me and I can let go knowing that I have never disrespected you in public even when we had our differences. Robala ka kgotso groot."
On social media, he went on and on sharing gig and freestyle they did together. He even videoed himself singing one of the icon's hit.
Cassper revealed this is a tough time for him and he said he feels numb and still in shock over the news. He added that he feels worried the most for the family Jabba left behind as they really loved him.
Here are tweets and videos shared by Cassper on HHP's death;
Cassper ,HHP – Wamotseba mtho 🎼🎻🎸🎶🎤🥁 #FillUpFNBStadium concert #RIPHHP pic.twitter.com/FHYix2atkt

— #FillUpMosesMabhida (@Mr_Majozi) October 24, 2018
"Memories are beautiful we should cherish them" Jabba & @CassperNyovest freestyling on the street 🔥🔥🙌 #RIPHHP pic.twitter.com/nNhL7TLRGP

— 🍹JayJay🍹 (@JohnState4Real) October 24, 2018
I feel sooo much for his family. I know how much they loved him.

— R.M Phoolo (@CassperNyovest) October 24, 2018
I'm numb to be honest. It's just way too heavy to digest. I haven't even cried yet. I don't believe it yet. I know it's true mara like I can't be true you know. It's a mess. https://t.co/K8V2S0D6XP

— R.M Phoolo (@CassperNyovest) October 24, 2018
On this day, you told me you loved me after a long time & I'm soo glad I told you I loved you too. I'm so glad my emotions never got the best of me and I can let go knowing that I have never disrespected you in public even when we had our differences. Robala ka kgotso groot. 💔 https://t.co/VNnjDZ2QzD

— R.M Phoolo (@CassperNyovest) October 24, 2018
#RIPHHP #RIPJabba #FillUpFnbStadium 💔 pic.twitter.com/EBdHJq4ZMV

— #uBabesWeLips💋😘😍 (@Sox_Live) October 24, 2018
Not even half of it. It's so challenging. Go thata. Go botlhoko. https://t.co/QfQ2xRo57e

— R.M Phoolo (@CassperNyovest) October 24, 2018
I'm lost for words Rip big brother ur wisdom was always amazing I remember u made show that me and @CassperNyovest meet and work together and u told me he is going to be the biggest thing in SA ,he did!! Ur love for people and for JESUS always on point ,may the LORD give u peace pic.twitter.com/xWu3QX7LGo

— #Dololo (@VEE_MAMPEEZY) October 24, 2018
💔💔🙏🏾💔💔 pic.twitter.com/gIlBr34Snu

— December 1st.. Si On (@BridgeBossTLee) October 25, 2018
— R.M Phoolo (@CassperNyovest) October 25, 2018