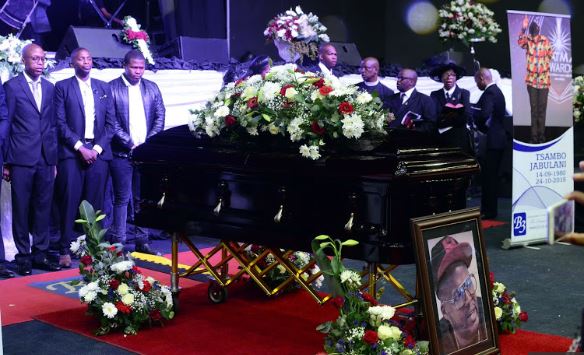 HHP's funeral service was held at the Mmabatho Convention Center in his home town, Mahikeng. His fans and loved ones were there to pay their last respect to the dead.
Mourners filled the venue while other artists like Cassper Nyovest was there. Everyone who read out a letter or speech did not stop emphasizing on the influential life of Jabba.
These are the major talks noticed by viewers and social media fans;
Firstly, was the sidelining of HHP's wife, Lerato Sengadi during the service. Despite the case concluded by Judge Mokgoatlheng that Lerato is Jabba's customary wife and discarded HHP's father claims, the Tsambo family insisted in act on not recognizing Lerato during the service. Social media busted in anger at Tsambo family. However, the service was a success.
Secondly, HHP mother's letter touched SA's heart. Mrs Botheopa Phaka read a letter from Jabba's mother, Theriso Tsambo. She said; "Boy I can't believe it's been 10 days since you left us. Jabu, there was an incredible feeling of joy when I saw you take your first breath and an incredible feeling of emptiness when I learned you had taken your last but between those two breaths there are 38 years good years which I'm truly and forever thankful to God for."
[WATCH] Mrs Botheopa Phaka reads a letter from Jabba's mother, Theriso Tsambo #RIPHHP #HHPFuneral #eNCANow Courtesy #DStv403 pic.twitter.com/8AqwbLappk

— eNCA (@eNCA) November 3, 2018

Thirdly, the moment Jabba's coffin was let down beneath the ground, HHP's mom and son's faces got teary:
WATCH | #LeratoSengadi and Jabba's mother and son sob as the watch the coffin go down #HHPFuneral pic.twitter.com/99AV0YtSQe

— TshisaLIVE (@TshisaLIVE) November 3, 2018

Here are photos and videos you should watch:
#HHP sister Ayanda Tsambo paying tribute to her late brother. #sabcnews pic.twitter.com/4jf2rspnip

— Kgajane (@ikgajane) November 3, 2018
#LeratoSengadi arrives at #hhpfuneral #sabcnews pic.twitter.com/49RFFJn5jM

— sentle (@sentleL69) November 3, 2018