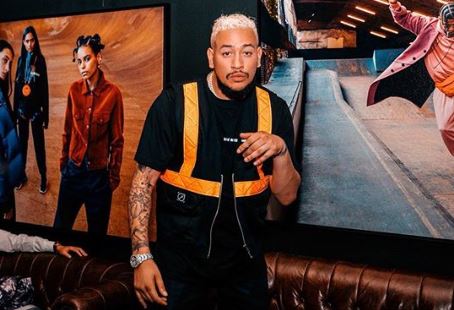 AKA has publicly announced his loyalty to the ANC political party just like he did to his football club, Manchester United.
The rap star declared via tweets that he's going to vote for ANC during this election. However, he doesn't know why.
"Honestly, this election … I'm going to VOTE ANC … but I don't know why. I feel like many people feel that way."
A fan dragged the Fela In Versace hitmaker by accusing him of being bribed by the ANC party, in other to support the campaign and influence is followers to vote the ANC.
But, AKA didn't take it lightly with the troll as he urged him to "Use his brain."
"Use your brain. Do you think I would be able to tweet that I'm not sure why I'm voting ANC if the ANC was paying me to tweet?" He tweeted.
The rapper had more tweets on the vote and politics issue. You can read them here.
What do you think?
I am ANC through and through but I need understanding and reassurance of what we stand for and where we are headed. ??? Dont be afraid to speak out … the ANC belongs to US. This is OUR ANC.

— AKA (@akaworldwide) January 16, 2019
Use your brain. Do you think I would be able to tweet that I'm not sure why I'm voting ANC if the ANC was paying me to tweet? https://t.co/A31BbaqpTM

— AKA (@akaworldwide) January 16, 2019
Over the next few months you're going to see a lot of fist pumping and campaigning … If you consider yourself a cadre and want someone to give you actual answers, tweet me over the next few months and I'll try get some from leadership. ???

— AKA (@akaworldwide) January 16, 2019
But whatever party you decide you are behind ? … YOU MUST REGISTER TO VOTE. It's the very right to VOTE that generations of South Africans literally died for and we owe them at least that much. The Youth cannot be THAT disconnected from our history and our struggle. ??

— AKA (@akaworldwide) January 16, 2019
I am not an influencer nor am I contracted or paid in any shape or form by the ANC. I have a platform as a leader in my private capacity as a citizen of the country that I love. I will speak as I see fit with my own beliefs and nobody can silence me or put a price on my voice. https://t.co/9HamKZQgXH

— AKA (@akaworldwide) January 16, 2019
One last thing … don't tell celebs to stay out of politics and then complain when you need them to speak out and they don't. #OccupyClifton: Our Celebs are so and so and such and such … " #Elections: "Stay out of politics." Pick a side. Stick to it. ??

— AKA (@akaworldwide) January 16, 2019