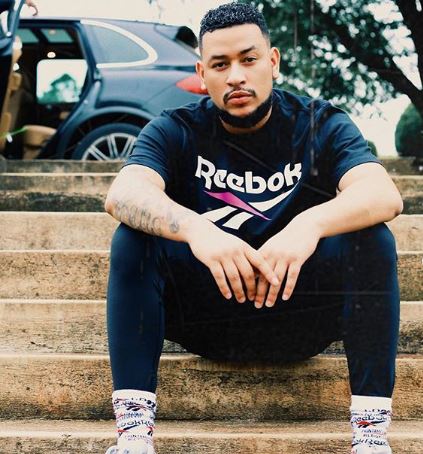 AKA demonstrated his philanthropist personality to Witwatersrand University students and in return he was trolled for his act.
Few weeks back, specifically in February, the rapper said, he felt the pains of the Wits students and took up actions by visiting the school, donating R100 000 and gave snacks to the student. It was such an excitement for him as he felt, he was able to help.
However, it turned out that his assistance wasn't welcomed after some angry students sounded ungrateful in their tweets.
The Fela In Versace hitmaker, tried defending himself, though, apologized but said, he's gonna be cautious next time, but wouldn't stop helping.
"Lemme rather just stick to making music … what a shame." He tweeted.
One of the students who complained got AKA's attention and she's by the name Solami. She had a lot to say and the rapper was curious on knowing what level and who she's repping.
"We were really doing better until you shat on us. If you want to help , humbly sit down with student leadership across the country and you will BE TOLD what is helpful and what is not." One of Solami's tweets.
AKA response to one of her many tweets: "I had the endorsement of the LEADERSHIP of the democratically elected SRC at WITS … i did what I did standing NEXT to the PRESIDENT of the SRC. So which leadership are you referring to, and since you have so much to say … who do YOU represent? And at what level?"
I'm sorry I didn't do enough to solve the entire problem of historical debt for all students … and you are incorrect … I didn't arrive in a Range Rover …. it was a BMW 760li. https://t.co/HDtNwJ5VIE

— AKA (@akaworldwide) March 6, 2019
The aim was to inspire others in my position and leaders in our own communities to do the same … or to at least do something. If you want to blame me for not fixing the issue of free education for all … I'll take it. https://t.co/ddue4QL04t

— AKA (@akaworldwide) March 6, 2019
This is why people are scared to help. ? https://t.co/vXqJc9DY9N

— AKA (@akaworldwide) March 6, 2019
I'm sorry I didn't do a campus tour … that's my fault. You're right … that money didn't come out of my own pocket. I mean, imagine that happening … impossible. https://t.co/v2AjEfGwT7

— AKA (@akaworldwide) March 6, 2019
Because I'm a celebrity … there's this thing called, the media … they follow me where I go and do stuff. Next time I will hire security to ban them from campus so that nobody can hear about it the next day. https://t.co/qyiyGpFl1q

— AKA (@akaworldwide) March 6, 2019
Nobody "ALLOWS" or disallows someone from being an activist. In my opinion Activism comes from a sense of responsibility and compassion for your fellow human being. Everyone and anyone can be an activist. If they are ACTIVE. https://t.co/b0TquZN4fa

— AKA (@akaworldwide) March 6, 2019
Hayi no … let me crawl back into the shadows. I feared this is what would happen. People are never satisfied. I will try and help in my own little way from now on. ??

— AKA (@akaworldwide) March 6, 2019
I tell you what … if you don't need us … rely on your government and see how far that gets you. Good luck. https://t.co/vqh4pSU3d5

— AKA (@akaworldwide) March 6, 2019
Ironically this is a pinned tweet of you asking for R52 858 to finish your final year. Yet you are saying I pulled a stunt. If I send you that money now will it be good enough for you? https://t.co/nHXVS2auvs

— AKA (@akaworldwide) March 6, 2019
No @akaworldwide you didnt need to do a campus tour. You needed to pronounce Free Education. Donations from celebrities is not solving the problem here. The issue is that you dont have the range when it comes to #FeesMustFall. You going to Wits was a publicity stunt at its best! https://t.co/pownMGdlbc

— Siyamthanda (@SiyaNyulu) March 6, 2019
Lemme rather just stick to making music … what a shame. ??

— AKA (@akaworldwide) March 6, 2019
You right my sister. Let me sit down. Quietly and humbly. You got this. ?? https://t.co/6cuzC2Mm51

— AKA (@akaworldwide) March 6, 2019
I had the endorsement of the LEADERSHIP of the democratically elected SRC at WITS … i did what I did standing NEXT to the PRESIDENT of the SRC. So which leadership are you referring to, and since you have so much to say … who do YOU represent? And at what level? https://t.co/Anbvsd8AMU

— AKA (@akaworldwide) March 6, 2019
Lesson learnt ??

— AKA (@akaworldwide) March 6, 2019
No matter what … I will never give up trying to help wherever and however I can. Publicly or privately. At the end of the day I'm trying to win God's favor not any human being's. ??

— AKA (@akaworldwide) March 6, 2019