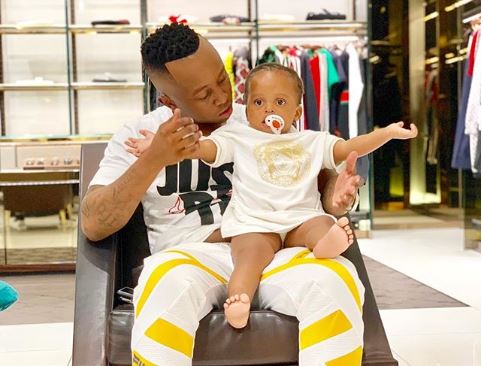 Junior De Rocka hits back on a hater for trolling on his daughter after flaunting snaps of his daddy duties with the little girl.
Junior and Ntando Duma who are now split had a child in the course of their relationship.
However, after much stinging words on Junior's poor father role to their daughter, he's adjusted and flaunted more snaps of himself and the 1 year old child on social media.
The troll reacted to the dad and daughter post, saying: "I'm sorry but this baby isn't cute."
Junior responded saying:
"God made my baby to look like this. She may not be cute to you and that's okay. Imagine if all of us looked the same. Imagine if every human being was so negative and evil like you bashing toddlers online. How nasty would the world be? I love my daughter and she looks cute to me."
#WhatItMeansToBeAFather pic.twitter.com/Q9ZEfvGTz1

— JUNIOR DE ROCKA (@JuniorDeRocka) March 3, 2019
God made my baby to look like this. She many not be cute to u n that's okay. Imagine if all of us looked the same… imagine if every human being was so negative n evil like u bashing toddlers online. How nasty would the world be?! I love my daughter n she looks cute to me❤️ https://t.co/IQsm0jd0Ce

— JUNIOR DE ROCKA (@JuniorDeRocka) March 4, 2019