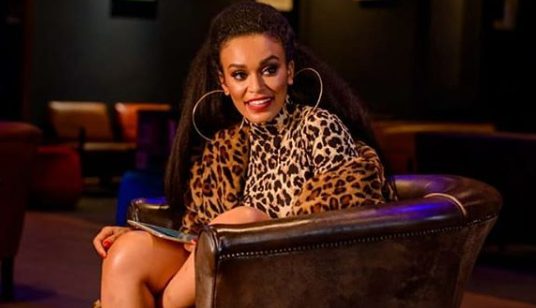 Pearl Thusi started a thread on Twitter against colourism and it's sparked more comments from other female celebrities like: Sho Madjozi, Gigi Lamayne, Denise Zimba and Boity.
This all started after a Twitter user trolled Pearl for being light skinned and Sho Madjozi was also dragged, in regards the award she had. Some tweeps felt she got the award based on her complexion.
However, our celebrities ain't taking a chill pill as they took to Twitter backlashing the trolls and educating them.
Sho said: "I cant be expected to stop being great because colorism exists. But I can try to use my platform to speak out against colorism, I MUST speak out when I see people being treated unfairly because of color and I can try to amplify the voices of talented dark skinned women."
Boity said: "@PearlThusi you're an amazing, hardworking, selfless woman. Your gifts were given to you through the path that only God prepared for you and no one, no words, no opinions, no hate can take them away from you."
Denise Zimba said: "The day black people stand together & not let the history of colonial system trap them, it will be beautiful victory! Dark / light skin, Tsonga / Zulu, who cares! We are failing ourselves andthe enemy just sits still on the slide line winning. Wake up! Protect and support yours!"
Gigi Lamayne also supported all that Sho said over the colourism issue.
What @ShoMadjozi said in those tweets yesterday ? Freaking accurate. So accurate, it hurts. ?

— #Fufa (@Gigi_Lamayne) June 27, 2019
I felt this ! ?????? https://t.co/nukWNxe9ag

— #Fufa (@Gigi_Lamayne) June 27, 2019
Pearl confessed she was brought to tears over the fight against colourism, however, she's on some self-love diet.
I'm properly crying now wow.
I'm logging off now.

Enjoy your day everyone.

— #QueenSono (@PearlThusi) June 26, 2019
Black is so beautiful. I've always wanted it. I remember when I was 7 I'd burn my skin in the sun thinking it would help me look like the other kids. So they'd accept me.
My skin always peeled back to my reality. I was never going to look like my friends.

— #QueenSono (@PearlThusi) June 26, 2019
I've avoided this convo for so long but my heart keeps getting broken.

Its so exhausting.

If my blackness isn't good enough for you, please focus on your own. Love yourself and let me live my life in peace.
Please and thank you.

— #QueenSono (@PearlThusi) June 26, 2019
This is how God created me. I am good enough for Him.
This is how he wanted me to look. And if God's path for my life. And career amounts to my skin colour for you… Then I guess there's nothing I can do.

— #QueenSono (@PearlThusi) June 26, 2019
I wept when I watched that episode.

My sister is much darker than me. People used to make us prove to them we were blood sisters.
I hated the way she was treated. https://t.co/213GQM1jS1

— #QueenSono (@PearlThusi) June 26, 2019