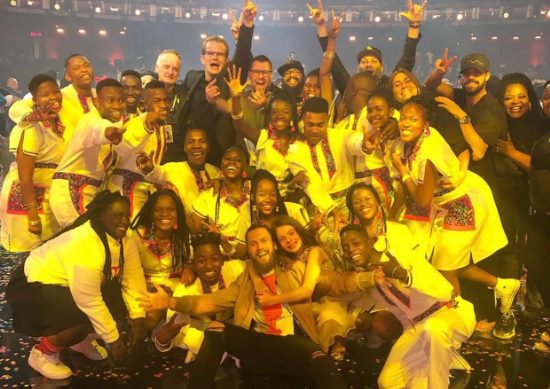 Ndlovu Youth Choir didn't win the 2019 American's Got Talent competition but South Africans are proud to call them winners.
The group successfully got to the finals with magical performances
For the finale on Tuesday, they performed Toto's Africa.
On the final results show on Wednesday, they performed Higher Love and Can't Hold Us! with fellow finalists The Detroit Youth Choir, DJ Kygo and Macklemore.
Sadly, the group didn't make the top five, and this season was won by 22-year-old vocalist Kodi Lee.
The group tweeted: "Our @AGT journey may have come to an end but this is only the beginning. We are so excited for what lies ahead and we look forward to continuing sharing love, unity and above all hope."
Felicia Mabuze who gave them a surprise visit few days ago, ahead of the finale also tweeted, saying:
"Congrats #NdlovuYouthChoir @ChoirAfrica! You gave it your best! You exhibited your spirit of #ubuntu to the end. You are winners in South Africa and the world. We love you. Hold your heads high my children. You made us proud. @ralfschmitt100 you made it look so enjoyable."

Big thanks to the incredible @AGT production team. Without you guys, none of this would happen! ❤️???? ?? #agt pic.twitter.com/0urhnQ8f3U

— Ndlovu Youth Choir (@ChoirAfrica) September 19, 2019
Hanging out with one of the worlds biggest DJ's.??? @KygoMusic you are inspiring and it was incredible performing with you. #agt ???????? pic.twitter.com/JPmSevPRFN

— Ndlovu Youth Choir (@ChoirAfrica) September 19, 2019