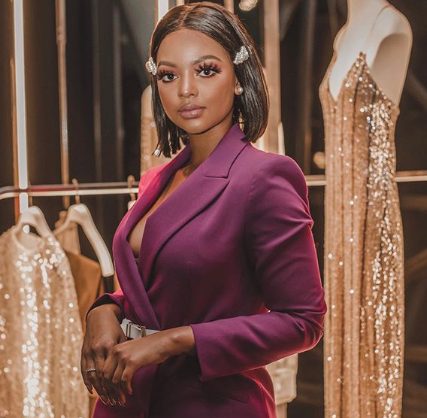 South African award-winning influencer, Mihlali Ndamase shakes the internet again and appears to be all over social media this week.
Mihlali who is having a swell time in Singapore trends on Twitter and here are the reasons below:
Firstly, the influencer shared a sizzling snap of herself and tagged Lewis Hamilton as the photographer. Lewis is a British racing driver who races in Formula One for Mercedes-AMG Petronas Motorsport and a five-time Formula One World Champion.
Upon seeing the tag, many of her fans choose to be in doubt and assumed it's a joke, while others tried to convince other social media people that anything is possible.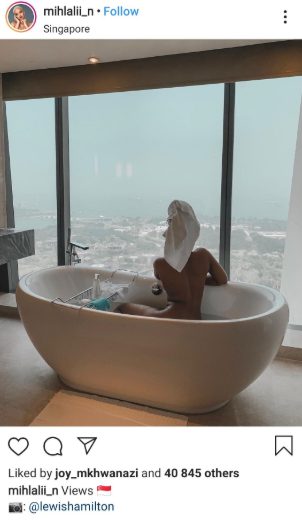 I really think Mihlali captioned (lewis hamilton)as a joke on her Instagram post and even if they're dating. Why are people bothered? Jelasi go kill you ?#Mihlali

— thoko.? (@tkmuchie) September 23, 2019
I hope Mihlali and Lewis Hamilton are actually dating soo that Twitter can shake with reason ?

— ° Banana The Unicorn Person ? (@_KingShadi) September 23, 2019
Mihlali can date Lewis Hamilton, y'all tweeting as if Lewis is y'all BFF and he tells you who he won't date, lol. Yekani umona! She's in Singapore, you're in Soshanguve hating with your last 22MB.

— Venda Robocop (@SoSoDeezy) September 23, 2019
Judge: "you're looking at 10 more years, is there anything else you'd like to say?"
6ix9ine: Lewis Hamilton has no idea who Mihlali is pic.twitter.com/wjPrgCtkFm

— C H R I S (@Hey_Kgotso) September 22, 2019
People wrote whole theses about how Mihlali could never date Lewis Hamilton. Exposing their ugly hearts over a joke. H for Ha guys ni hectic!

— broke up with my doubts ?? (@OfficialYayah) September 23, 2019
Mihlali is very beautiful but Lewis Hamilton is out of her league. pic.twitter.com/dVkFa7spLr

— Chief bheki Cele Makhathini (@Mxbeez) September 22, 2019
Apart from the first reason, Mihlali also trends due to the flamy bikini snaps she served on social media.