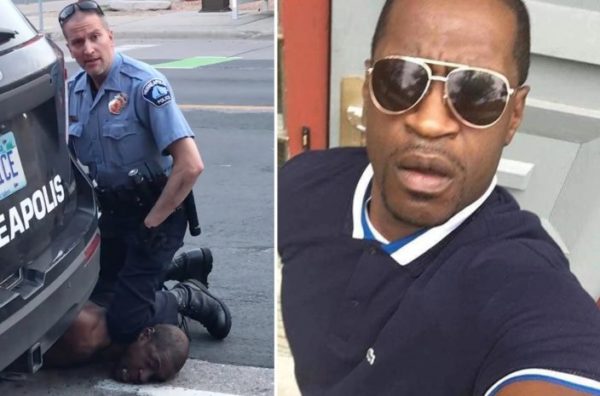 A video captured in US went viral on Wednesday and it shook the net. The video reveals the Minneapolis police brutality on a Black American, whose name is George Floyd.
George has been confirmed dead and racism is being kicked against once again on the net.
According to Aljazeera, Floyd died at the hospital late on Monday after Derek Chauvin, a white police officer, knelt on the 46-year-old's neck for several minutes as Floyd moaned and yelled: "I can't breathe."
A video of the incident shows Floyd pleading with police and eventually appearing motionless as the officer's knee remained on his neck. Bystanders can be heard urging the officer to get off of Floyd.
On Tuesday, officials announced the four officers who were involved in the incident have been fired, a move Frey said is the "right call."
"I support your decisions, one hundred percent" he said in a statement, according to CNN. "It is the right decision for our city. The right decision for our community, it is the right decision for the Minneapolis Police Department."
In an interview on CNN on Tuesday, Floyd's family called on authorities to charge the officers involved with murder.
"They were supposed to be there to serve and to protect and I didn't see a single one of them lift a finger to do anything to help while he was begging for his life. Not one of them tried to do anything to help him," Floyd's cousin, Tera Brown, said.
"They need to be charged with murder because what they did was murder. And almost the whole world has witnessed that because somebody was gracious enough to record it. They need to pay for what they did," she added.
Floyd's brother, Philonise, also condemned the officers' actions saying: "They could have tased him, they could have maced him, instead they put their knee in his neck and just sat on him and then carried on."
"They treated him worse than they treat animals."
Watch the incident that led to Geoge's death below:
Security cameras captured moments before the murder of #GeorgeFloyd. He was clearly NOT RESISTING arrest… So WHY did Minneapolis Police officers use excessive force that ultimately resulted in his death?! WE DEMAND ANSWERS. #JusticeForFloyd #SayHisName pic.twitter.com/4yGxvTY2Ln

— Benjamin Crump, Esq. (@AttorneyCrump) May 27, 2020