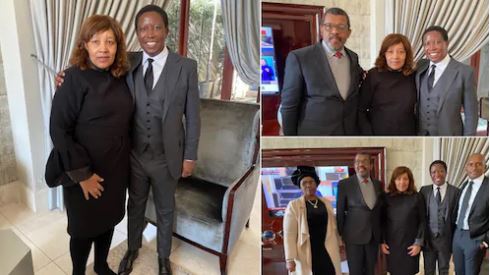 Economic Freedom Fighters leader, Julius Malema and EFF former National Chairperson, Dali Mpofu have been slammed for attending Zindzi Mandela's funeral with no face mask and social distancing.
On Friday, July 17, 2020, Zindzi was laid to rest in a private funeral with the attendance of Malema, Mpofu and other guests.
Malema's ties to the family run back to the days of Winnie Madikizela-Mandela, with whom he shared a close bond as well as with Zindzi herself.
In a photo that surfaced online the EFF officials were spotted posing with Zenani Mandela with no precautions amid the Covid-19 pandemic.
However, twitter users immediately voiced their dismay at the EFF officials and Mandela family placing themselves under risk of contracting the virus at the event.
This is made worse by the family's announcement that Zindzi had tested positive for Covid-19 before her death.
Check the photo below:
The CIC @Julius_S_Malema and the former National Chairperson @AdvDali_Mpofu with members of the Mandela family after laying Mama Zindzi Mandela to Rest. #RIPZindziMandela pic.twitter.com/ddrRqUDgX4

— Economic Freedom Fighters (@EFFSouthAfrica) July 17, 2020

Here are tweeps reactions:
The EFF criticized the government for opening schools yet you have no masks , no social distancing etc. The only thing the EFF is good at is blowing smoke .

— Kenny Chiyangwa (@KC10212364) July 17, 2020
At a funeral of a person who died of Covid and your leaders are not wearing masks. Bathe nqeke amazinyo 😏

— Ma- Eh (@loveric3000) July 17, 2020
Masks? social distancing?, Corona virus? Dali Mpofus hair? pic.twitter.com/z78JKbLDMf

— 🇿🇦Bobby Mugabe🇿🇦 (@MugabeBobby) July 17, 2020
😂😂😂😂 Order Member pic.twitter.com/THoqsn0euy

— Colman Photo 👆👆 (@PhotoColman) July 17, 2020
It is extremely irresponsible for leaders with respectable following to defiantly project such reprehensible behaviour. Im deeply saddened. Covid-19 is spreading at an overwhelming speed. We need national co-operation to defeat it.

— Thabang Motsohi (@MotsohiThabang) July 17, 2020
This is disappointing no mask 😷 no social distancing yet you will go on public platforms to urge South Africans to wear mask and follow social distancing

— Mulaudzi Brian (@MulaudziBT) July 17, 2020