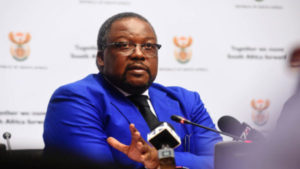 Nathi Nhleko, former police minister has applied to rebut Robert McBride's assertion, who is the former head of IPID (The Independent Police Investigative Directorate).
It is set to be a busy week as the Commission of Inquiry into State Capture resumes on Monday. The commission will hear evidence relating to allegations of corruption at different law enforcement agencies.
Former Police Ministerm Nathi Nhleko is amongst the witnesses expected to take the stand this week.
Nhleko has applied to rebut former IPID Head, Robert McBride's assertion.
McBride told the Commission in April 2019, that Nhleko illegally suspended him and former Hawks Head, Anwar Dramat, and two of his colleagues – Shadrack Sibiya & Lesley Maluleke, for their involvement in the rendition of five Zimbabweans.
Again, Nhleko is set to dispute McBride's allegations that during his tenure as Police Minister, he appointed a Zimbabwean convicted fraudster – Leon Mbangwa, who faked his South African citizenship as Chief of Staff in his office.
It is alleged Mbangwa, whose real name was Lionel Moyo, was arrested in 2000 and was sentenced to jail term.
It is not clear for how long will Nhleko be on the stand.
Commission will hear Law Enforcement related testimony from the former Minister of Police Mr Nkosinathi Nhleko and other witnesses on Monday 27 July 2020 at 10:00.#StateCaptureInquiry pic.twitter.com/e1HWGFbfy8

— State Capture Commission (@StateCaptureCom) July 26, 2020