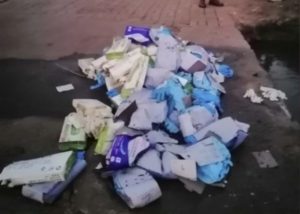 Unused Personal Protective Equipment was found floating in a Pretoria river on Sunday.
A video shows gloves and masks floating on the river that runs through the Irene Country Club.
The current acting Gauteng Health MEC, Jacob Mamabolo, said a criminal case has been opened.
The country is already facing a shortage of protective gear meant to Safeguard healthcare workers.
Seeing PPE that hasn't been used, floating in a river could blow questions in the air about how the government is mismanaging them.
And judging from recent accusations of PPE tender fraud, this discovery of unused PPE might add up to the accusations against the government.
This evening we visited Irene County Club where PPE was discovered floating in the river. Criminal case have been opened and the police are investigating pic.twitter.com/r2CbBRPfaS

— Jacob Mamabolo (@JacobMamaboloSA) August 2, 2020
See random comments following this discovery:
Do you think we are impressed that there police are "investigating"?

— lebogang mohadi (@lebogangmohadi) August 2, 2020
Those things have a barcode all they need to do is call the manufacturer they will tell them who bought them an we will know where they come from simple.

— MR DICK (@kabelodick) August 2, 2020
This is weird, masuku is implicated in ppe tender fraud, mamabolo gets appointed in his place, 3 days later mamabolo discovers ppe dumped in a river. Call me a conspiracy theorist but ho nkga le futha….

— C'shalaba (@mkhulu4eva) August 2, 2020