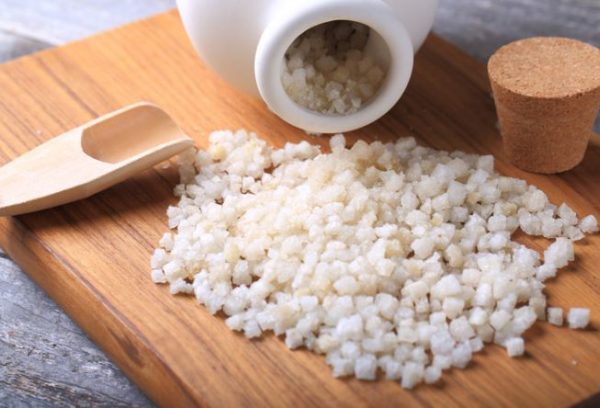 Epsom salt is different from traditional salt, it's actually a mineral compound of magnesium and sulfate, and is technically known as magnesium sulfate.
It's composed of tiny, colorless crystals that look like table salt, but it's actually a completely different thing, as table salt is made up of sodium chloride.
Magnesium sulfate is a mineral that many of us are lacking in, as levels have been decreasing over the last three to four decades around the world.
It's also a natural anti-inflammatory and exfoliant that can be used for treating muscle aches and dry skin. Soak in a warm bath with a cupful of Epsom salt, to enjoy its renowned therapeutic and healing properties, inside and out.
This article reveals seven of the best ways to use your tub of Epsom salt:
1. Soothe sprains and bruises
Anti-inflammatory Epsom salts can be used to alleviate the soreness from sprains and bruises. Just add two cups of salts to your warm bath water and soak away the ache.
2. Relieve constipation
One of Epsom salt's more popular uses is as a saline laxative. Dissolve one teaspoon of Epsom salts into a cup of warm water and drink. Note, this remedy should not be used more than once per day.
3. Regulate blood sugar
Both magnesium and sulfate help to improve the body's ability to produce and use insulin. Regular intake of Epsom salts – either orally or transdermally – may help to regulate blood sugar, lowering the risk of diabetes and improving your overall daily energy levels.
4. Muscle and nerve function
Aside from relieving tension, pain, and cramping, Magnesium sulfate has several other positive effects on the human body. It aids in many enzymatic functions, helps to regulate fluid retention in cells, and facilitates the body's use of calcium to transmit chemical signals throughout the nervous system.
5. Natural face cleanser
At night before bed, mix a teaspoon of Epsom salts with your regular cleanser for an easy daily treatment or use this recipe for an exfoliating face mask, Apply mixture to face for 15 minutes then rinse with lukewarm water for an excellent clarifying skin treatment.
6. Dislodge blackheads
Use Epsom salts to remove dead skin and oil from your pores. First, you'll want to exfoliate to remove any dead skin from around the outsides of the blemishes.
7. Wash pots and pans
Pour a small amount of Epsom salts into those really-dirty dishes before you scrub them. The abrasive texture of the salt crystals will help to remove stuck-on food more easily without hurting your cookware.