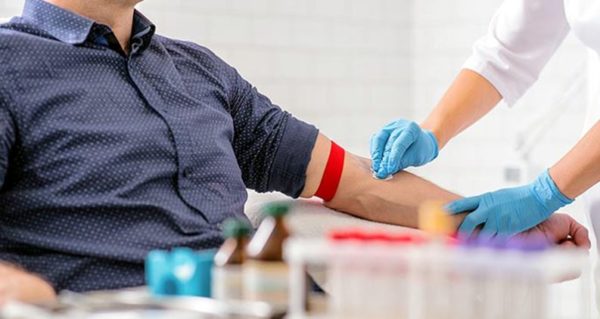 Blood donation occurs when a person voluntarily has blood drawn and used for transfusions and/or made into biopharmaceutical medications by a process called fractionation (separation of whole-blood components).
Donation may be of whole blood, or of specific components directly (the latter called apheresis)
If a person's blood levels falls due to an accident or illness, or if their blood is not functioning properly, there will not be enough oxygen or other nutrients to maintain their vital organs – donating a whole blood could actually help these people.
A similar process to whole blood donation is apheresis. This provides other blood components, such as platelets. A donation of platelets can help people who have issues related to clotting. It may also provide antibodies to help fight a disease, such as COVID-19.
Giving blood can be a life saving action, but it may also have benefits for the donor; Here are the benefits of donating blood:
1. Giving blood can reveal potential health problems
While it isn't the same thing as a trip to the doctor, donating blood can be another way to keep an eye on your cardiovascular health. You'll receive a mini-physical prior to the blood draw, in which someone will check your pulse, blood pressure, body temperature, hemoglobin and more.  This can sometimes shed light on issues you didn't even know about.
2. Giving blood may lower your risk of suffering a heart attack
Donating blood at least once a year could reduce your risk of a heart attack by 88 percent, high levels of iron in the blood constrict your blood vessels and create more risk of a heart attack. Depleting those extra iron deposits by donating blood gives your vessels more room to operate.
3. Giving blood may reduce your risk of developing cancer
In an average, completely healthy person, the link between giving blood and decreased cancer risk is slim. But research does support a reduced risk of cancer for blood donors with different maladies, one of which is hemochromatosis.
4. Giving blood can help your liver stay healthy
Research has linked too much iron with NAFLD, Hepatitis C and other liver diseases and infections. Though there are many other factors involved in these problems, donating blood can help relieve some of those iron stores and avoid extra issues in your liver.
5. Giving blood can help your mental state
Donating blood, especially on a regular basis, can be similar to volunteer work. You give of your time (and your literal blood) to help strangers in need. If you go to specific blood donation location each time, you'll get to know some of the staff who are also dedicating themselves to the cause of saving lives.
This kind of regular, altruistic interaction has major psychological benefits. Getting out of your usual environment to do something good for someone else is stimulating in the best kind of way.  Volunteering has been shown to have positive effects on happiness. In people over 65-years-old, volunteering also reduces the risk of depression and loneliness.