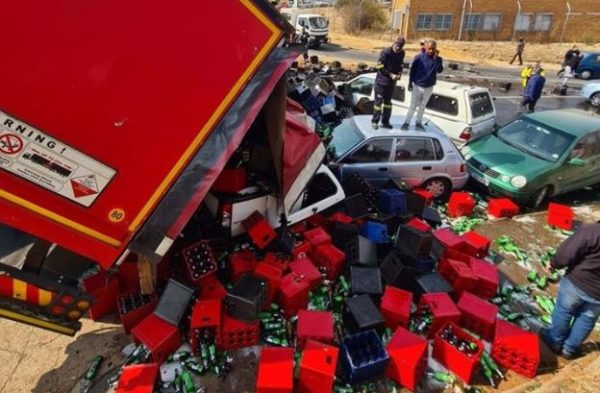 One of SA Breweries truck has been looted by locals this morning.
The truck was ransacked after it crashed on Voortrekker Road in Krugersdorp on Tuesday morning.
This incident happened on the first day the alcohol ban was lifted in level 2 of the lockdown.
An eyewitness, Owen Lloyd, said he was travelling from Chamdor in the area when he noticed traffic was heavily backed up.
"I drove through the traffic quite easily, and noticed everyone was parked on the side of the road.
"I looked up the road and saw a SAB truck on its side. Everyone was looting it," Lloyd explained.
He said beer "was pouring down the side" of the truck from broken bottles.
Lloyd however said he saw some companies security members on the scene of the incident but the crowd overpowered them.
"Guys were running with cases of beer and enjoying their first day of lifted restrictions."
 Adrian Amod, Head of communications in Mogale City, said the SAB truck had "jackknifed" and crashed into three  cars but police officers have already been deployed to the scene.
"People started looting the truck, but members of our traffic department arrived on the scene. They brought everything under control and managed to prevent the crowd from further looting."
Watch video below:
Locals in Krugersdorp have looted a SAB truck after it crashed on Voortrekker Road on Tuesday morning. Video supplied by Owen Lloyd. #alcoholbanlifted #TheReturnOfAlcohol @TimesLIVE pic.twitter.com/074AbSmMul

— Iavan Pijoos (@iavanpijoos) August 18, 2020