The clash between Kaizer Chiefs and Mamelodi Sundowns on Thursday will act as a title decider as both teams battle for the top spot on the league table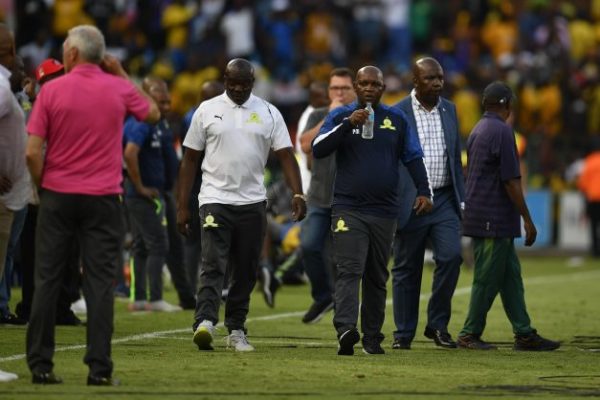 Chiefs are currently sitting at the top spot but the defending champions are lurking from behind to grab the top spot.
The defending champions – Mamelodi Sundowns are just a stone throw away, having three points behind Chiefs.
However, here are five reasons why Sundowns could win the match and become on level points with Chiefs ahead of the final three league games.
1. Multi-talented Squad
Looking at Sundown's squad, Pitso Mosimane has many options for positions and also has players who can be flexible for two or more roles. Take for example – Mosa Lebusa is a flexible player and can play as left-back and centre-back. Rivaldo Coetzee can play at centre-midfield or as defensove-midfield. These kind of players create a creative atmosphere on the field within teammates.
2. Absence of Nurkovic
Samir Nurkovic from Chiefs received a fourth yellow card which means he has been suspended for the match. This will make it harder for Amakhosi to penetrate forward since their main forward man will be missing in the match. Moreover, another skillful player in Chiefs – Khama Billiat has been struggling lately with his form on the downside and this could affect the performance of Chiefs.
3. Experience
Most of Sundowns players have won the league and also other domestic cups. They are good with handling pressure and have an eye for winning big games. This is why Sundowns have either won the league or be part of the runners-up. On the other hand, more than 70% of Chiefs players have never won any piece of silverware.
4. Extra motivation
Judging from the gap between Sundowns and Chiefs, Sundowns will be so motivated to take the three points home. Moreover, Chiefs have been sitting on the top of the table since this season's league began, this will also motivate Sundowns to knock them off from their spot and take over to clinch the league title.
5. Rivals beef (between Pitso and Middendorp)
The most interesting fact is that both coaches are so keen in clinching the league title and either of them will sustain ego bruises at the end of the match. Middendorp has been on voyage to clinching his first ever league title and Mosimane will be so glad to be a barrier on Middendorp's way to success.