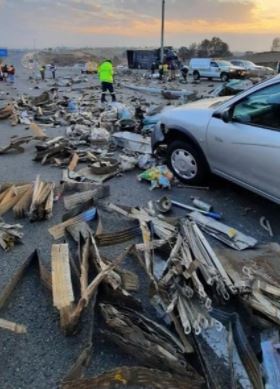 A truck driver has lost his life while one other person sustained minor injuries after his truck collided with a pole on the N1 North.
Johannesburg metro police spokesperson Wayne Minnaar has informed motorists to avoid the N1 for now.
He added that the JMPD was still busy cleaning up the accident's scene.
The accident occurred after the truck went out of control and collided with a pole few minutes before 6.am on Thursday.
"The driver was transporting scrap metals coming from Zambia to Gauteng. The driver lost control and collided with a pole and he died," said Minnaar.
Netcare 911, said it responded to the call after the collision on the N1 north before the Allendale off-ramp in Vorna Valley Midrand.
One person who sustained minor injuries was treated on scene while the truck driver was declared dead.
"Reports from the scene indicate that the driver of a heavy motor vehicle transporting what appeared to be scrap metal had lost control, resulting in the truck slamming into the centre barrier and spewing debris on both carriageways."
"The truck driver who had been ejected in the crash was declared deceased on the scene," said Netcare in a statement.
Some vehicles travelling in other lanes got damaged after they got stuck with flying pieces of metal.
JMPD said four lanes are currently closed to remove debris on the road while the two other lanes are active.
"Traffic is heavy on the N1 north from William Nicol, N1 south from Olifantsfontein Rd, N3 north from London Rd, M1 north from Woodmead Drive," JMPD said.
! Traffic Advisory !

The accident has been cleared, but 4x lanes remain closed to remove debris on the road & 2x lanes are operational. Traffic is heavy on the N1N from William Nicol, N1S from Olifantsfontein Rd, N3N from London Rd, M1N from Woodmead Dr. #JHBTraffic https://t.co/0NPTIFxClv

— Jo'burg Metro Police Department – JMPD (@JoburgMPD) August 27, 2020