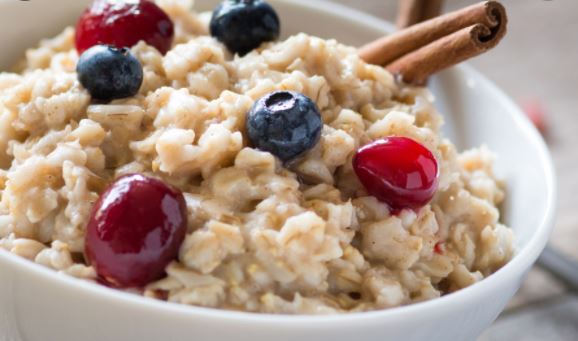 Oatmeal is a breakfast food made from oats and liquid like water or milk. Many foods fall in and out of favor as health trends come and go. Not oatmeal.
This whole-grain powerhouse has been packing serious nutrition and hearty flavor into breakfast for generations. It's one of the few comfort foods that's as good for you as it is just plain good.
Studies show that oatmeal have many health benefits. These include weight loss, lower blood sugar levels and a reduced risk of heart disease.
Here are 7 evidence-based health benefits of eating oats and oatmeal.
1. Oats can lower cholesterol and stabilize blood sugar
Oats contain both soluble and insoluble fiber. Soluble fiber forms a viscous gel that helps to lower cholesterol and stabilize blood glucose levels. The insoluble fiber in oats helps provide a "moving" experience by curtailing constipation and improving intestinal health.
2. Oats may protect your heart and your colon
A variety of antioxidants known as avenanthramides are found exclusively in oats. Avenanthramides have been shown to exhibit anti-inflammatory and anti-itching activity, and may provide additional protection against coronary heart disease, colon cancer, and skin irritation. They also may play a role in controlling blood pressure.
3. Oats make an easy, balanced breakfast
One cup of cooked oatmeal contains about 150 calories, four grams of fiber (about half soluble and half insoluble), and six grams of protein. To boost protein further, eat oatmeal with a swirl of almond butter nestled within. This powerful combo will keep you away from that midmorning visit to the vending machine.
4. Oats provide important vitamins and minerals
Nutrient-rich oatmeal contains thiamine, magnesium, phosphorus, zinc, manganese, selenium, and iron.
5. Oats are gluten-free
Oats are naturally gluten-free, but check with manufacturers to ensure that their products are not made using the same equipment as other potentially contaminating grains.
6. Oats may help you control your weight
Oats can keep you feeling fuller longer, thereby helping you control your weight. Sadly, carbs are often shunned and feared by those looking to drop a few pounds, but whole grains can squash hunger and simultaneously provide that pleasant feeling carb-lovers crave. As with any other food, be mindful of portion sizes.
7. Oats can be savory, too
Although oats are usually paired with sweet foods like brown sugar and cinnamon or fruit, oats also make a perfect savory side dish. Oats provide a texture similar to buckwheat, and their bland taste is like a blank canvas for a variety of seasonings and spices. You can combine oatmeal with your favorite veggies or last night's leftovers, and top with an egg or a sprinkle of cheese to enjoy breakfast for dinner.