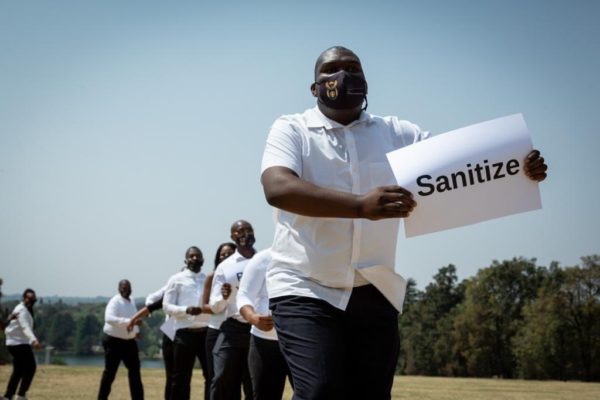 So many South Africans picked up their dancing shoes and accepted Ramaphosa's call to join the global Jerusalema dance challenge.
President Cyril Ramaphosa made this call last week Wednesday while addressing South Africans to enjoy the Heritage day and dance as well.
"There can be no better way to celebrate our South African-ness than to join the global phenomenon that is spreading across the world, that is the Jerusalema dance challenge."
"The Jerusalema song that I love so much," he said, with a smile.
On Heritage Day, videos of so many people and institutions dancing to Jerusalema song went viral.
South Africans were busy enjoying the Heritage day and serving us with their dance moves.
Enjoy videos below:
Health Minister Zweli Mkhize and the Ministry of Health
Cape Town International Convention Center (CTICC)
[WATCH]: South Africa responds to the call by President @CyrilRamaphosa to take up the #JerusalemaChallenge 🇿🇦 #HeritageDay2020 #JerusalemaDanceChallenge #MyHeritageYourHeritage pic.twitter.com/k8NyTcrVxR

— Presidency | South Africa 🇿🇦 (@PresidencyZA) September 24, 2020
Metro FM
[WATCH]: @MetroFMSA responds to the call by President @CyrilRamaphosa to take up the #JerusalemaChallenge 🇿🇦 @EUinSA #HeritageDay2020 #JerusalemaDanceChallenge #MyHeritageYourHeritage pic.twitter.com/OjaROj8Ua3

— Presidency | South Africa 🇿🇦 (@PresidencyZA) September 25, 2020
Department of Health North West Province
[WATCH]: @NorthWestDoH responds to the call by President @CyrilRamaphosa to take up the #JerusalemaChallenge 🇿🇦 #HeritageDay2020 #JerusalemaDanceChallenge #MyHeritageYourHeritage pic.twitter.com/Q1IlUFjakF

— Presidency | South Africa 🇿🇦 (@PresidencyZA) September 25, 2020
European Union in South Africa
[WATCH]: European Union in South Africa responds to the call by President @CyrilRamaphosa to take up the #JerusalemaChallenge 🇿🇦 @EUinSA #HeritageDay2020 #JerusalemaDanceChallenge #MyHeritageYourHeritage pic.twitter.com/X7E32UCScf

— Presidency | South Africa 🇿🇦 (@PresidencyZA) September 25, 2020
Chinese Embassy in South Africa
[WATCH]: Chinese Embassy in South Africa responds to the call by President @CyrilRamaphosa to take up the #JerusalemaChallenge 🇿🇦 #HeritageDay2020 #JerusalemaDanceChallenge #MyHeritageYourHeritage pic.twitter.com/S3v9NGwfRM

— Presidency | South Africa 🇿🇦 (@PresidencyZA) September 25, 2020
Minister Mbalula Fikile and Transport Ministry
[WATCH]: Minister @MbalulaFikile leads Transport Ministry in response to the call by President @CyrilRamaphosa to take up the #JerusalemaChallenge #HeritageDay2020 #JerusalemaDanceChallenge #MyHeritageYourHeritage pic.twitter.com/WfDNsBuKXg

— Presidency | South Africa 🇿🇦 (@PresidencyZA) September 24, 2020
SAPS
[WATCH]: South Africa responds to the call by President @CyrilRamaphosa to take up the #JerusalemaChallenge 🇿🇦 #HeritageDay2020 #JerusalemaDanceChallenge #MyHeritageYourHeritage pic.twitter.com/lro7tGxRx7

— Presidency | South Africa 🇿🇦 (@PresidencyZA) September 24, 2020