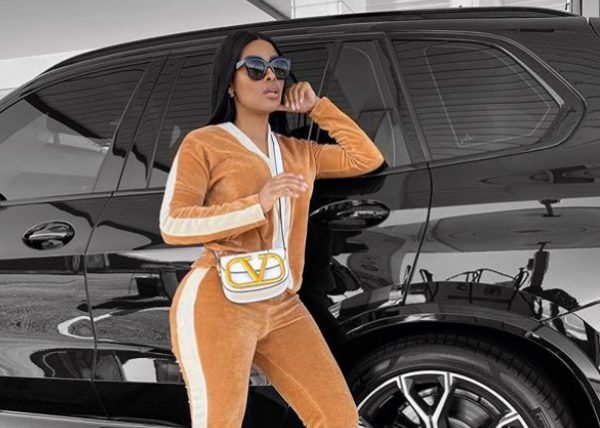 Popular Style Influencer, Kefilwe Mabote has been dragged into a boiling hot water by social media users after it was reported that SA politician and businessman, Edwin Sodi's car got seized.
"Edwin Sodi's luxury cars are being seized by SIU as we speak. The Ferraris, Porches, Lamborghinis, Bentleys, etc. He has a house worth about R85 million in Brynston that is also being seized," a tweep revealed.
Lots of social media users believe Kefilwe is in a relationship with the businessman, and her luxury lifestyle is sponsored by the man.
The style influencer has a Porsche, and it's assumed that the car would have been seized also, believing she got it with the help of Edwin.
Some trolls have gone as far as calling her dirty names on the socials, which has gotten her at the top of trend list.
Check out comments below:
They really didn't have to take Kefilwe's car… https://t.co/JSroxutcfF pic.twitter.com/5Z7BlP0rPp

— OVOBheedie (@MabhidaMartins) October 6, 2020
I really thought fore Kefilwe works really hard driving those expensive cars. Kante nix 😭😭💔 https://t.co/cUxiUbqVhr

— CANDICE (@therealcandice) October 6, 2020
Kefilwe Mabote? Ferragamo, Dior, D&G, Emirates, Prada, Veuve, Daytona, Armani, Jimmy Choo… that Kefilwe? https://t.co/xAye8iUgLj

— inshallah (@kauketso) October 6, 2020
Kefilwe Mabote has always been a top tier luxury content influencer long before this. Let's not take that away from her pls.

— Naledi ❤️ (@NalediMOfficial) October 6, 2020
Kefilwe WORKS! Please don't look down on her achievements because of Sodi. That is a hard working woman, she'll do just fine without him.

— Woët (@withmy_Wo) October 6, 2020
Lol not you guys making Kefilwe look weak without a man. You guys are always ready to disapprove black women and really undermine their potential. I'm not Kefilwe but I've made so much money off social media, I can only imagine what Kefilwe makes working with luxurious brands

— Inno (@innomatijane) October 6, 2020
Hawks also took Kefilwe's Porsche. Shid mahn. pic.twitter.com/iozqupPN7K

— K U L A N I (@kulanicool) October 6, 2020